Sting.com Messenger Bags to start shipping shortly to qualifying members...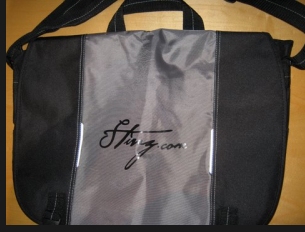 As previously reported this year's premium item for club members is a Sting.com messenger bag. The bags have been manufactured and delivered and shipping is due to commence shortly in the following order: International orders, Canadian orders then US orders. The messenger bags will be issued to premium members who renewed between August 18, 2008 until August 17, 2009. We will let you know when shipping commences.
We cannot stress how important it is that every member check the details held in their account record to ensure that the information held there is correct. This information is be used to produce your shipping labels so please ensure you visit
https://myaccount.sting.com/index.php?module=MyAccount&page=MyAccountAddress
and check that the address fields are properly completed we can be sure your bag will be despatched correctly.
First Name - needed
Middle Initial - needed if you have one
Last Name - needed
Address 1 - i.e. 2025 High Street
Address 2 - i.e. 3rd Floor (please do not enter an alternative address!)
City - needed
State/Province - only complete this field if you live in the USA/Canada
Region - leave blank unless it's a required field in your own
country's addressing protocol (i.e. Surrey, Wiltshire)
Zip/Postal - needed
Country - needed