Are you interested in a career as a professional musician? Then you should check out Newcastle College's BMus Course in jazz, popular and commercial music...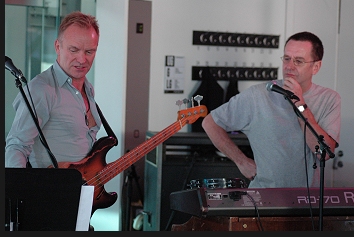 Newcastle College's B.Mus. programme is delivered at The Performance Academy, which is located on the main college campus in central Newcastle. Opened by Sting in Autumn 2004, The Performance Academy is a 'state-of-the-art' performing arts complex which provides a comprehensive range of purpose-built facilities. There are ten fully equipped ensemble rehearsal studios (soundproofed and air conditioned), three recording studio complexes (soundproofed and air conditioned), a Clavinona keyboard suite, music technology workstation suites (equipped with Apple Macintosh G5s), a professional music performance venue and theatre, TV/media studios, I.T. Centre and high-tech lecture theatres and teaching rooms.
Sting's long-time friend and former band mate Gerry Richardson is the Performance Studies Leader on the course and is part of a highly experienced team of programme staff responsible for hosting the course. The
programme team
is comprised of professional music practitioners who have established national profiles in the fields of jazz, popular and commercial music. Their experience in the music industry is 'cutting edge' and constantly informs the curriculum and the team has considerable experience in structuring and delivering JPC programmes, having led numerous initiatives in popular music education over a number of years. Also, with the opening of
The Performance Academy
in 2005, Newcastle College has an excellent accommodation and resource base for delivering such provision.
What will I study?
A combination of practical skills (instrumental lessons, band rehearsal and performance, recording and music technology), improvisation, composition, arranging, music business and academic studies.
Do I have the right profile for entry to this programme?
Applicants need to have a minimum of 160 UCAS points (e.g. two 'A' Levels at Grade C, or equivalent), a high standard of instrumental (or vocal) technique, knowledge of music theory, aural awareness and the ability to read music notation.
Why is the B.Mus. programme subtitled "jazz, popular and commercial" music? Does it focus on jazz?
The programme is designed to provide a broad base of performance skills in jazz, popular and commercial music. As the programme progresses through the three years, students may gradually develop specialisms in any of these areas.
What kind of employment is there for graduates of the programme?
An individual's employment profile usually evolves over time, typically including freelance performance, recording, broadcasting, composition, arranging, production, publishing, management and teaching.
For more detailed information
CLICK HERE
.