Travellin' Man... the further adventures of Roger Puplett (and other fan club members)...
Fresh from his adventures on the recent Police tour that saw him take in a staggering, pocket emptying, forty six concerts around the globe, Sting.com member Roger Puplett hit the road again last week to see Sting perform in Quebec. Here is the full report of his adventures...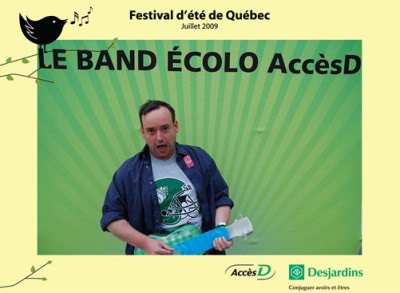 Sting conquers the Plains of Abraham (with a little help from his friends?)
Anybody who thought my adventures would cease, post Police tour, would be very much mistaken. My latest trip over to Canada was actually planned as holiday, not a Sting tour trip, as such?
Travelling was most definitely on the cards, starting out as I did in Montréal, on another "Man in a Suitcase adventure; even though my actual suitcase never made it there. Puts a new twist on the lyric "...woke up in my clothes again this morning?"
I joked that my case went to Toronto by default. (To see all my Torontonian friends, I missed you all; I will be back there again soon!)
I was re-united with my belongings in Halifax, Nova Scotia, (It's the first trip my case has done more miles than me?) nothing like buying some new clothes in Montréal, although finding some trousers that fitted me was a tall order. I was starting to think all Montréal men were anorexic?
Going to Halifax was just what I needed, lots of sight seeing, fine food and wine (the odd lobster, more pubs than Aberystwyth... hic ) and a few tall ships along the way; as well as meeting some interesting characters, some even had a passing resemblance to Captain Birdseye?
I also popped up in the background of a live local news weather forecast (from the waterfront), whilst eating my morning hot dog! Who posted on the forums, that the Police had put an APB on me?
What is it with me and video crews? (Do Karen and Jay know the reason?) I'm surprised they didn't ask for my meteorological thoughts for the day.
Fast forward four days and I'm in Quebec City; it quite literally started with a Kiss... concert!
Who would have thought it, me at a Kiss concert, absolutely hilarious, so much fun, well I had to check out the venue? I thought the crowds were big, even then. I found a good spot next to the beer tent with fellow Sting.com fan, mpgirl.
This was our pre-Sting concert training, the beers were flowing and my air guitar was firmly out of the closet! Mummy, mummy what is that person doing? I felt kinda naughty having this much fun, and not being at a Sting gig?
What no Carter yet? We all met up Saturday morning in my hotel for a pre-show meeting and first beer of the day! Some people have commented in the past, that we are like brothers who were separated at birth, something always seems to happen when I'm with Carter!
Police dog was also there to help him navigate the streets, although they both had interesting journeys, just to make it to Quebec!
As I write this, I don't actually know if they made it to Foxwoods or not, I'm sure they did, we did walk Paul back to his hotel (after the gig) just to make sure. Just in case he thought he was in Marseille, with all the French that was being spoken?
We were all excited, Carter was on stunning form (actually we all were), there were enough Carterisms to fill Roget's Thesaurus! One of my favourites is when Paul sees a statue of Ghandi and says "What's he doing here?" I was laughing so much; I thought I might not make it to the concert?
By the time we made it to the Hotel Frontenac (to check out the bar), I was doing some important Carter translation for mpgirl.
Oooh the beer was good and mpgirl was sinking the pink cocktails in fine style, they hit the spot in a manner in keeping with their exotic name? A well timed cigarette break ensured her a meeting with Dominic and Josh outside the hotel, she returned with a big smile on her face.
Whilst, I had to find the restrooms, only to spot David Sancious next to me! Now wasn't the time to strike up a conversation, he was actually in the bar having a coffee later, but he was with some friends, so we didn't intrude on his privacy. I did get to say hi to Danny (by the lift) before we headed to the Festival site though; his face when he saw Paul, was priceless.
Before the concert, Sue had e-mailed me predicting that I would open up some space around me at the gig. It did happen, but not how I expected!
My reputation for dancing at Sting/Police gigs' was very much alive on the day, and still intact, I have the blisters to prove it.
How do you find space to dance amongst over 100,000 Sting fans?
This sounds gross, but the space originally opened up because somebody couldn't hold their beer! Some creative use of the free newspaper and hey space, simple, voila!
I think some people there were not frequent festival goers. That's why I wear sturdy walking boots; of course once MIAB started the space really began to open up! People behind me were laughing at me, for sure. Did I mind, did I F***! I think they spent the whole concert waiting for me to fall to the ground or collapse in a heap?
I got the feeling they thought I was on something, yes I was, Sting's music! :)
I deliberately wasn't drinking, 100,000 people and what seemed like just 50 toilet cubicles, I'm no good at maths, but even I can figure that one out?
I had the space I didn't have in Toronto (In May) to do the full Roger dance and big leaps and jumps in the air! My Sting jumps were spot on! (even if I do say so myself)
Thank god for the timing of "Fields of Gold", Sting Thank You, I needed a breather.
I probably still dance like I did when I was 20, but where has my stamina gone? If there weren't so many people, I would have run the whole stretch of the plains! :) (Like I did in Hyde Park, it took me three days to recover from that!)
Now I mention it, the festival was similar in some ways to Hyde Park, but, so different in other ways. There seemed to be no marshals around for crowd control, the Police officers were out in force, but they didn't do much, they were there for the show.
A few people passed out at the Kiss concert, the previous night, and the Police stood around, to let the drunken morasses of bodies deal with it themselves; you wouldn't get that in London, and anyway the beer was a lot tastier and colder!
Another thing, my Sting predictions are all off kilter, who asked me what Sting would be wearing before the concert? I replied "Sting will be wearing an all black outfit", so he comes on stage all in white clothes.
So he will start the concert with MIAB I proudly predict, wrong, Faith was first! It didn't stop me from launching skyward; it must have been quite comical from the stage to see me, (with an England hat, on loan from Police dog) leaping about, very visibly for all to see. I should have brought the British flag; I don't think the Quebecers would have liked that somehow?
Sting was supported by the "Yeah Yeah Yeahs!" I don't know whose idea that was, but it actually worked, strange as it seems, but true.
Sting may have chosen them because they hail from New York City. Karen O is quite a character, like an outrageous version of PJ Harvey with excess energy to boot; I wouldn't mind having some of that energy, but like some unfit athlete, I was conserving mine, for my Sting workout!
I don't think anybody knew who they were, I did, I helped promote their music in England when I was a nightclub DJ, but I did have difficulty remembering the song titles, must be my memory? "Nice One", as Paul said, who then promptly disappeared for more beer, or to find food or both?
We had already lost Police dog, who had made a march further to the front, mpgirl shortly followed, leaving me on my own. I stayed put as I had the space around me to dance, and I was content with that. I had direct line of sight with Sting, central position, fairly near the front, a row 15 or the equivalent, and an excellent view of two video screens, if my view of the stage was obscured. I was happy, sometimes for me physical space (around me), is actually a greater priority than being front row! Most of my friends only do front row?
It was about this time, I got talking to some Canadian students from Alberta who were pleased to hear an English accent and to talk to me, as they didn't know any French.
I thought it was my charisma, no, just my accent? Sting taught me all that I know in the francais department, and I wasn't going to say "J'aurais Toujours Faim de Toi!" to them, I was old enough to their dad! I never used that line as a chat-up line, does it work?
I assumed they were there for the Yeah Yeah Yeahs set; turns out they came to see Sting. It was their first Sting concert, and my ...nth (lost count at the end of the 80's!) "So what got you interested in Sting's music", I asked, my father they replied! Ah bless, suddenly I felt like some ageing music critic, and promptly turned the conversation to other artists playing the festival.
Somehow I thought Pink was playing the festival this year, they informed me she wasn't and that her music sucked, but seemed envious of me having seen "Metric" (A band from Toronto) that I'd seen in Hyde Park a few weeks ago. I think they appreciated my dance moves; hard to tell really, I think they did a runner after "Walking on the Moon"!
The two sisters were probably worried that I might topple over or something? My Air Guitar, probably frightened them, I should come with a health warning sometimes, don't try this at home, unless you are with a responsible adult?
Did I tell you, the music festival was being played out on a historic site, which marked a famous battle between the French and English, if this was the world cup final; England won easily, no contest.
Sting had re-claimed the Plains of Abraham for the English. Although the Quebec organizers' made sure it was an all Quebec cast for the final day of the festival which closed on the Sunday night.
The set list was similar to Sting's Sunnybrook benefit concert in May, so I'm gonna concentrate on the things that were different.
Again, an absolute Policefest of songs and during his short time in Quebec also set a new festival record in terms of crowd attendance some 100,000 happy fans; some reports claim it was nearer to 120,000 on the day! The headline in the Local paper proudly proclaimed Sting adored Quebec, the feeling was mutual.
What a privilege to be there and all for the bargain price of $45 for the whole 10 days of a music festival, (so I only did four, lightweight?) $25 for a day ticket, now that's something that doesn't happen very often? I thought 2 days at Hyde Park for under £90 to see Neil Young and Bruce Springsteen were good value for the money, the other week. Thank god, they kept tickets back to sell on the day, in England the gig would have sold out on the first day.
Although saying that, my body wouldn't be able to cope, if Sting did a set longer than three hours, although I wouldn't complain! Bring it on; Bring on the night seemed even more different than it was in Toronto, the band gelled perfectly, Sting's vocals seemed way too quiet here, but Paul reckons that was deliberate on Sting's behalf.
Sting's trademark walk across the stage towards David Sancious got the crowd cheering, although I reckon the women in the audience were going crazy, as Sting was wiggling his bum in time to the music. Now if Beyonce had been there and had done those same moves, I would have passed out at that point in time. (Behave Roger!)
On a side note she was playing in Montréal the night I flew back to London. How did I miss that, my timing must be off? I also missed Paul McCartney in Halifax by one day; well I can't complain, I was in Sting heaven.
One thing that was also on our minds was the weather? We could have been characters in the song "Heavy Cloud, No Rain", but unlike them, praying not for rain. I had been caught out in a thunder and lightning down pour in Montréal on my first day there, the prospect of a repeat was not on my wish list.
More than a few people looked apprehensive, when Sting started singing the line "I dream of rain..." during "Desert Rose", please let the rain Gods be good to us, they were, we gazed at the empty skies above, result!
If there was anything I would have changed in the set, I would have played "MIAB, then Faith, not the other way round?
I sound like some pedantic train spotter, don't I, the hits just kept rolling out Englishman in NY was an instant crowd pleaser, although somebody turned around to me and said you're an "Englishman in Quebec", full marks for stating the obvious, I think I even sang the line out a few times for effect?
"Synchronicity 2" had me shouting out the lyrics out loud and rockin'out big time, I was just waiting for someone to tell me to calm down, it didn't materialise, I was given a wide berth (in which Sting fluffed his words at one point during the song, he quickly recovered, as he did in Toronto, is this becoming a regular feature?)
I think he did it later on as well, I'm a fine one to talk, what has happened to my memory, anybody would think I'd been drinking?
Like Toronto the first five songs were fired off in quick succession in order to give the audience a total energy rush straight away; people around me didn't know how to cope with my reactions to each song?
"Every Little thing..." was another crowd pleaser, I was off the starting grid quicker than anybody else in the audience, again noticeably vocal, I was totally immersed in the music, and probably unlike anybody else there?
For such a crowd, it felt I was on the extreme end of audience reaction (no change there then, some might say?), but was it just me, the crowd just appeared too laid back to be in the presence of such greatness.
Apparently a lot of Quebecers are really laid back, but it felt I was doing the majority of the dancing out of all the people around me. People were soaking up the music; I think it was stunned amazement.
I know people react to things in different ways; it is a physical impossibility for me to stay still when Sting plays. In one of the most interesting concerts I've seen him play at, in Monaco the other year; I was still eating my dessert when Sting started the concert. Stuff dessert.... I was up, nearly knocking the table over in the Process.
That was on the "Broken Music" tour, and like then, Josh Freese was on drumming duties. He was consistently good through out the whole concert, really worked hard, and I really don't think he put a foot wrong, my favourite song, in terms of his drumming was "Synchronicity 2" and "Driven to Tears."
Unlike Toronto, there was no "Seven days" in the set, well this is Vinnie's trademark song, but I'm sure Josh could have easily coped with it with considerable style; I spent a lot of the concert drumming, myself!
On the day of the concert, we were very close to the eve of the 40th anniversary of the moon landing, this monumental moment in history had been dwelling on my mind, and Canadians are rightly proud to have two Canadian astronauts in space at the moment, here comes "Walking on the Moon", my favourite track on the "Certifiable" (DVD), "One,..Two... Three...!"And at this point the neighbouring audience were probably starting to give me weird looks again?
Roger is off on one, again, what's wrong with people, I hear my voice echoing around the plains, with the same vigour as on the Police Reunion tour I was reliving my musical high points in this rousing, similar version of the song, but it just felt to me the crowd were not making effort to sing along? They probably were, just not around me! I was leading the charge on the "eoh yo yo" front
Like Toronto, "Walking On The Moon" seamlessly merged into a full version of "Tea in the Sahara", did I hear a bit of "Spirits..." in the middle of the song as well?
Probably my favourite song of the night was totally unexpected, and that's why I loved it so much. At this point in proceedings mpgirl had returned and had unfortunately met some Quebecers who had been going through major humour by-pass surgery, when she turned to me to say "What's this song..." I listen, Sting is playing this wicked baseline, and I don't recognise the song, OMG he's playing a new song?
Actually it wasn't, old song, new interpretation, I have never heard a version of "Set them free" like it before?
It was so different, I thought, from the original; remember the transformation of "Don't stand so close", this is "Set Them Free 09" The song was quite loose and funky at the same time and sounded fresh. In parts it felt the band was really improvising, superb, Sting does it again, and he can still surprise me.
Given the amount of sight-seeing I had been doing on this trip, especially in Halifax, visiting the Citadel, there is also one in Quebec city, I'm surprised he didn't sing
"Fortress", another of my predictions falls by the wayside. Sounds like that set-list inclusion may have been for only "One Night Live?"
Two songs which are so perfectly played live are "Fields of Gold" and "Shape of My Heart", nothing new to report here, spot on, Dominic's guitar playing was superb, it was like everybody in the crowd took a picture or video clip on their phones during these two songs.
Just like on the Reunion tour, the opening riff of "Wrapped Around Your Finger" set me in an almost euphoric trance, by this stage in the set my legs were starting to go, I could feel the blisters, I was swaying in a dub like style, I may have been dancing in slow-mo like the video?
Jock will be pleased to hear, I did my trademark turn to audience behind me, after the line, "devil and the deep blue sea behind me..." if I had taken a picture of the crowd behind me, you would have seen the bewildered faces?
The puzzlement, the Quebec fans were oblivious to why I was doing this, such a contrast to the lively Montréal fans on the Police tour, who screamed and were really pumped up with my moves.
That moment is always a very special one for me, I've made it my trademark, I missed having all the Toronto fan club members with me, mpgirl was my dancing saviour, she really rocked out during the concert, equivalent to probably ten people's worth of dancing put together all told?
For me, the crowd saved themselves for the tail end of the concert, the gasps of apprehension at the beginning of "Roxanne"(which as always, was consistently good musically), was infectious.
No need to actually put on the red light tonight, there were 100,000 flashing red diodes (from the festival badges) lighting up the night sky, a beautiful sight, the song seemed to be over in a flash.
Before the concert, there may have been speculation about whether "Desert Rose" would get an airing; we were treated to Sting singing in foreign tongue. If he was going to trip on his words, now was the time, not a chance, absolutely superb, the crowd were going nuts.
I forgot to tell mpgirl that in Toronto, Sting invited women from the audience to join him on stage at this point in the show. Every young girl's dream is to dance on stage with Sting; every young man's dream is to dance with the women on stage with him in Monaco?
Sensibly, it didn't happen, it would have caused a riot, and severe crowd control problems, the chaos (for the crew) of having to deal with a stage invasion like the one that occurred in Monaco on the Broken Music tour is one that won't be forgotten in a hurry.
How I managed to have some energy for "King of Pain" I don't know, I'm sure one day that will finish me off! "I'll always be..." I was shouting my voice was getting faint; Dominic's guitar playing had me in ecstasy, I was freaking out to the guitar like Eric Clapton was playing it out. Awesome! (That's only my first Awesome of this review, what's wrong with me?)
We are nearly at the end now, "Every Breath You Take", I was starting to well up, I was having the time of my life, and I did not want it to end. But, we all know the party has to finish sometime? A rousing version to finish, a few more jumps from me and it's over.
Not quite, Torontonians didn't get "Fragile" played out in May, Quebec City did, I was now totally knackered, as I looked on, not really moving, my energy gone, seeing the master at work and getting my camera out, on video mode, to capture a fond memory to treasure long after the lights fade out on Quebec City. Three seconds spare at the end of the song, my memory card is totally full-up.
I may have only gone to one Sting concert (unusual for me) on this trip, Police dog full of energy and guidance (and navigation for Carter) ventures admirably for the cause of us Sting fan club members, did you make it to Foxwoods guys?
Thanks again, to all my Canadian friends, you are the best; I miss you all already and unusually this is the first concert I've been to where I haven't seen Joelle?
What an amazing holiday I have had, my sister will be gutted not to have been able to come to Quebec with me, I needed her French.
Although she would not have made it to a Kiss Concert, like I would never make it to a Celine Dion one!
As a footnote, we saw the close of the Quebec Music festival; the headliner did an entire set of what sounded like the same song. Quebecers' won't thank me for that, the support group was better on the night.
I joked that all his songs were about failed relationships and pining after women? I was half expecting him to bring on Celine Dion, luckily for me that didn't happen!
We had a good laugh, on the last night of the festival, beer sales were down that night. I thought drinking more would improve the cheesiness of the French music, it didn't, but I was impressed the beer seller remembered me from the previous evenings; do I stand out that much from the crowd?
I left Quebec City the next day, by train to Montréal, exhausted, happy and with some of the happiest memories of my life firmly entrenched in my mind.
You could be excused to think I was in a sulk wandering around Montréal, on what felt like the hottest day of the year, so far. The mark of a good holiday is you don't want to leave.
On the flight home, I started talking to the man next to me, I was tying to help him operate the touch-screen (that wasn't working), and the conversation that followed was meant to be. Turns out, he had seen Sting in concert in the "Last Exit" days, small world eh?
Needless to say, I was talking all the way back to London on the flight; that's probably why I'm still so knackered, missed a night's sleep along the way, and why I've taken so long to write this? He originally lived in Newcastle, which is my next scheduled Sting stop-over. Was this synchronicity or fate?
We edge ever closer to winter now (I know it's meant to be summer!) a new album will soon be upon us, I can smell the mulled wine from here, who knows what's around the corner?
I will see you on the next one, Cheers
Roger
Travellin' man goes anywhere
I don't stay nowhere long
travellin' man don't turn your back
before you know I'm gone...
Fraser/Rodgers/Kossoff/Kirke