Sting supports England's 2018 World Cup bid...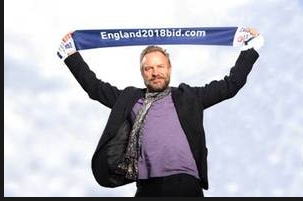 FA World Cup bid team get warm welcome...
Scarves held high, the people of North East England gave a passionate welcome to football chiefs in a bid to bring the World Cup to the region.
Football Association (FA) judges have spent the last two days touring Newcastle and Sunderland as they make their final inspection of the potential host cities.
And they were given a warm welcome by thousands of fans who desperately hope to see the world's best players on their doorstep in the 2018 tournament.
The judges were given a tour of the cities, as well as the facilities they have to offer such as stadiums, training grounds, hotels and transport systems.
Yesterday the FA team visited Newcastle to inspect St James's Park and meet with members of the NewcastleGateshead bid.
After the tour they travelled to Grey's Monument to watch a mini-football tournament.
The event was attended by Newcastle's Ryan Taylor, who pledged his backing for the bid.
And pop legend Sting also joined in the support for his home city.
He said: "St James's Park would make a fantastic World Cup venue and NewcastleGateshead a world-class host city."
On Wednesday, judges visited to Sunderland to inspect the Stadium of Light and meet with the city's World Cup bid team, which included Sunderland AFC chief executive Steve Walton, officials from Sunderland Council and Jarrow-born bid champion Steve Cram.
The former Olympic athlete said: "It is a tremendous privilege to be part of the bid to bring World Cup football to the north east.
"A huge amount of work went in to preparing for the visit and the Sunderland bid team did a brilliant job of demonstrating how we can play a significant role in 2018."
© The Shields Gazette by Andy Hughes
To back the bid visit
www.england2018bid.com/support/
.