People of the Forest - 20 years of images from the Rainforest Foundation...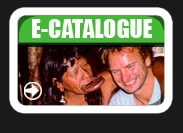 Launch night Tuesday 6 October 2009 / Exhibition runs 7 - 18 October 2009
Proud Galleries and the Rainforest Foundation UK, in association with Founding Patrons Sting & Trudie Styler, present this retrospective exhibition of photographic prints from the Foundation's project sites, from some of the best photographers working in the field.
Each print will be available for sale as a limited edition, exclusive to this exhibition, and will be accompanied by a certificate of authenticity signed by Sting, with all proceeds directly helping the work of the Rainforest Foundation UK to continue.
The Rainforest Foundation UK have very kindly given Sting.com members the opportunity to view the prints for sale and you can do this by visiting
www.rainforestfoundationuk.org/ecatalogue
registering and then logging in and viewing the catalogue.