Sting The Traveler...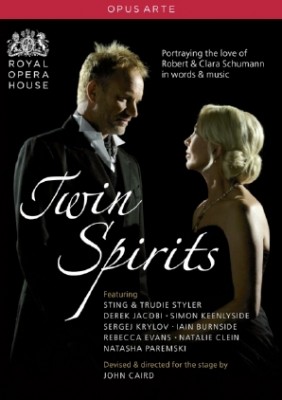 Channeling Schumann for the Royal Opera House and adding lyrics to Bach for his upcoming album, the global rock star shares with Classical TV his ongoing struggle for authenticity, and why the classics bring a tear to his eye.
For over 30 years Sting has been the world's scholarly crooner - the voice of a rock star, the soul of a poet. Before he moved to London to form The Police, Mr. Sumner was an English teacher at a convent school. And upon going solo in the mid '80s, Sting pulled from such varied styles, cultural arts and subject matters - jazz, electronica, Algerian folk; songs about prostitutes, songs about Chaucer - he showed us a rocker with a fondness for the arts. But by 2009, what has the sound of Sting become?
With 16 Grammys and Rock and Roll Hall of Fame status, Sting has certainly earned room to tinker; and lately he has chosen in his own way to back off from his music: Sting's previous album, Songs From The Labyrinth, consisted entirely of songs by 16th century English composer John Dowland. His upcoming LP, Sting's ninth as a solo artist, is called If on a Winter's Night..., a title that indicates not only the chilly, reflective mood to come, but alludes to the relentlessly post-modern '70s novel by Italo Calvino, If on a Winter's Night A Traveler....
"It's one of my favorite books; and I love the title, so I used half of it," Sting told Colin Schoenberger for Classical TV in a phone interview. "You're never quite sure if the section of the book you're reading is the authentic book or not. Nothing is authentic, and yet everything is authentic. So I think my work comes into that category... But just the struggle to tell a story in an authentic fashion is already authentic ... and yet it's not."
Having chosen as one inspiration for his album this fourth-wall battering ram of a novel - which challenges the reader's expectations involved with, well, reading - Sting lets go of the ego, opting instead for atmospheres, a narrative. If On A Winter's Night... benefits from the husky wonders of Sting's voice, of course, yet it includes only two original songs by Sting; the other tracks are his takes on traditional folk songs and carols.
"It's not the normal way a pop record is made," Sting said. "I wanted to create a consistently integrated mood, even though the songs are from a variety of sources, and indeed centuries."
While the album, due in the U.S. October 27, offers several tracks related to Christmas, a light-hearted holiday romp this is not: Themes of death and isolation surface, as well as references to other wintry rituals (the album's second track, "Soul Cake," originally recorded by Peter, Paul and Mary, covers early forms of trick-or-treating).
"It's a season where we're asked to face the ghosts the past in order to move into the spring; ... [our ancestors] would feel they would have to take part in a ritualization in order for it to happen. In a way, people do the same things now, our instinct is to go home - our instinct is to be together around the fireplace, in a church, somewhere safe."
The album's bleakest moments come through in Sting's brief, though intense, renditions of Henry Purcell's King Arthur. In addition, "Christmas at Sea," for which Sting added original music to the words of a Robert Louis Stevenson poem, brings out the sadness and longing of being unable to return home during winter.
"The season has a great deal of darkness around it and depression; in a way, the record needed to reflect this balance, this duality."
Stevenson's is not the only classical work to receive a Sting overlay, though: For the CD's closing track, "You Only Cross My Mind in Winter," the booklet credits in fact read, Music by J.S. Bach, Lyrics by Sting.
"Well, I've got some nerve taking a Bach piece and writing lyrics to it; but he really is my teacher, and I've spent a lot of time with him, studying his work. And I became obsessed with that melody. I also felt it was exactly the right mood for this record, so I just listened and listened and listened, hoping that the narrative J.S. Bach is telling me would be translated into a concrete story - a story that I could tell. ... It was the most difficult song on the record to actually do, to avoid pathos; and you know, it was a struggle, but eventually I was convinced of putting it on the record."
There's something to witnessing a performer of Sting's level channel a classical great; and taken with his reverence and level of study, Sting's interpretations provide listeners with something, at the very least, authentic. We know Sting can write a bankable rock song, but in taking the backseat, perhaps he is more Sting than ever.
For an ongoing initiative of the Royal Opera House in London, Sting has lent himself to present not the music, but the words of 19th century Romantic composer Robert Schumann. Released on DVD this week through Opus Arte, Twin Spirits features Sting and his wife, Trudie Styler, reciting letters exchanged between Schumann and his wife, Clara Wieck, also a pianist and composer. Alongside these readings, which reveal an embattled romance, the DVD presents moving performances of the composers' works. Pianist Iain Burnside, baritone Simon Keenlyside and violinist Sergej Krylov evoke Schumann; pianist Natasha Paremski, soprano Rebecca Evans and cellist Natalie Clein perform Clara.
"I didn't know this tragic story," Sting said. "It was clearly a very intense love affair they had, and a very difficult one. Then I got to hear Clara Schumann's work, which I found a total revelation. I was just amazed by her work."
Robert courted a teenage Clara in secret, as Clara's father greatly disapproved of the union. Though the couple moved past these obstacles to an eventual marriage, Robert's mental illness led to an attempted suicide and his death in an asylum in 1856. Reading the letters of Robert Schumann, Sting was again more than willing to act as a vessel for another artist, to let a story tell itself; although, according to Sting, he didn't really act Robert Schumann, because he "can't really act."
"...But I did get involved in the tragedy of it, of seeing yourself in that situation, the situation of losing your mind - especially a creative mind." he said. "And to think of the tragic effect it had on his wife, and how very difficult her life was, it definitely moved me. I was moved to tears the other night, when I was watching my wife playing Clara - I was moved to tears."
Twin Spirits makes use of only male instrumentalists to perform Robert Schumann's work, and the same applies for females taking on Clara's compositions. The choice creates a visual continuity for TV, as well as intangible differences in mood and dimensions to the performance: a woman's words spoken by a woman; a woman's music brought to life by women.
"When Iain [Burnside] plays the grand piano next to Natasha [Paremski], there's a color difference, a darkness about the male piano player," Sting said. "They weren't competing; it was very much complementary. I enjoyed that. You know, we are different, and we respond differently emotionally; and the letters are different, so it's important to have that, I think."
Twin Spirits, first performed in 2005, has benefited various charities, including Broadway Cares - Equity Fights AIDS; the DVD production raised money for the Royal Opera House Education Program, which brings classical music, dance and opera to a wider and more or less unfamiliar audiences. Sting was asked to take part in the project from the very beginning.
"We performed it a number of times: once on Broadway, once in Salisbury Cathedral and initially in the Opera House. We did it once at the castle of His Majesty Prince Charles; he cried like a baby."
Classical TV © 2009 by Colin Schoenberger