Sting in concert - A Winter's Night with Special Guest Chris Botti - December 8 and 9 at the Cathedral Church of St. John the Divine, New York City... Tickets on sale Monday, November 2 at 12pm EST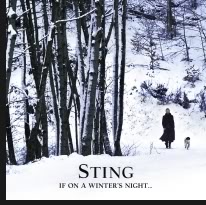 Sting in concert - A Winter's Night with Special Guest Chris Botti - December 8 and 9 at the Cathedral Church of St. John the Divine, New York City... Tickets on sale Monday, November 2 at 12pm EST
Ticket Prices: $300, $150, $75
In celebration of his new, Deutsche Grammophon release, "If On a Winter's Night...," STING will be performing two exclusive concerts in New York City on December 8 and 9 at the Cathedral Church of St. John the Divine (1047 Amsterdam Avenue) at 8pm. Tickets will be available online at Ticketmaster beginning Monday, November 2 at 12PM/EST.
The concert, "A Winter's Night..." will feature Sting performing songs from his newest release, already being hailed as "one of the most magnificent and adventurous albums of the year." He will be joined on stage by an ensemble of thirty-five musicians, including string and brass sections, conducted by producer Robert Sadin. In addition, acclaimed trumpeter, Chris Botti will be making a guest appearance at both concerts, rounding out what is sure to be a very special evening.
"If On a Winter's Night..." conjures the mood and spirit of the season with a diverse collection of songs, carols and lullabies spanning the centuries. Featuring traditional music of the British Isles as its starting point, Sting and guest musicians interpret stirring, folk-based melodies including "The Snow it Melts the Soonest" (traditional Newcastle ballad), "Soul Cake" (traditional English "begging" song), "Christmas at Sea" (traditional Scottish song) "Gabriel's Message" (14th century carol), "Balulalow" (lullaby by Peter Warlock) and "Now Winter Comes Slowly" (Henry Purcell). Two of Sting's own compositions are also featured: "Lullaby for an Anxious Child" and "The Hounds of Winter," which originally appeared on his previous release Mercury Falling.
There will also be a Sting.com fan club exclusive ticket pre-sale for these concerts, beginning Friday, October 30 at 10am EST. The sale will be open to Legacy members for the first two hours and then opened up to all members (subject to ticket availability) at 12pm EST.