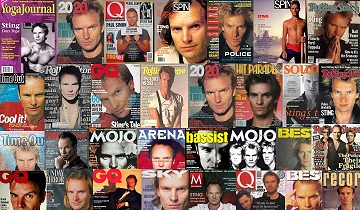 The following article by Melinda Newman appeared in a February 2018 issue of Billboard...
Sting stands behind Shaggy, resting his chin on the Jamaican rapper's shoulder in a small room at Sear Sound in Midtown Manhattan. As they listen to unmixed tracks for their April 20 Caribbean-flavored album 44/876, Daddy Yankee is across the hall laying down vocals for a song on the set and longtime Sting collaborator Branford Marsalis wanders in to add soprano saxophone flourishes.
It's the afternoon following Sunday's Grammy Awards, during which Sting and Shaggy debuted a snippet of their new duet "Don't Make Me Wait." (The full song's broadcast bow will occur Sunday during Sting's performance at the NFL Tailgate Party preceding Super Bowl LII on NBC.)
Though they barely knew each other a year ago, the warmth between the two is apparent as they wrap up work on the album. Originally limited to Sting laying down guest vocals on a song for Shaggy's album after the two were brought together by Martin Kierszenbaum, Sting's manager and Shaggy's former A&R exec, the pair enjoyed collaborating so much that they decided to record a full album together after Sting asked Shaggy to help on his next project. "We just had a rapport," says Sting. "I decided a joint venture was much more exciting than him just guesting."
The swaying "Don't Make Me Wait" is a seduction song for the current era. Despite the title's pleading urgency, the male protagonist stresses that he can and will wait until his partner is ready to move forward romantically via such lines as "I don't want you to think I'm rushing you/ I know you like to take your time."
"I think it's apropos of the message of the moment," Sting says. "We need to listen to women's timetable and needs, because I know what women want: They want to be asked what they want. I've learned that and you need to respect that. … It's an important conversation that needs to be had and learning needs to take place."
"It's respectful to the female," Shaggy adds of the song. "Take the #MeToo out of it - let's talk about relationships between men and women. There's going to be a push and pull in every relationship. … I know this person is going to be my soul mate, but she says, 'I need more time.' By nature, women are more cautious than men. Men are like 'let's go.'"
Sting traveled with Shaggy to Jamaica in January for the "Shaggy and Friends" charity concert, where they first performed the song live. The concert benefited the Bustamante Hospital for Children, the only English-speaking pediatric hospital in the Caribbean. It marked Sting's first time back to the island in more than 20 years and, given The Police's liberal use of reggae rhythms, Sting was pleased to donate his time to the Jamaican cause.
"In the early '80s, I was in Jamaica a lot. I wrote 'Every Breath You Take' in Jamaica sitting at Ian Fleming's desk at Golden Eye, which Chris Blackwell now owns. [Sting's wife] Trudie and I were his guests, we were hiding from the press at that time," he says with a smile. "So Jamaica was a kind of refuge and obviously a great influence on my own musical DNA with reggae, so I felt I owed a debt to Jamaica. When Shaggy said, 'Will you come do this show for the hospital that I fund,' I felt like it was an ideal opportunity to give back to this island that had given me so much."
In a circumstance that surely doesn't happen often, Sting moved in the shadow of Shaggy, who immigrated to the U.S. as a teen but still has a home in Jamaica. "He's like the Pope of Jamaica. People bring their babies to him," Sting says. "He's incredibly loved and well respected, which isn't surprising, he's a wonderful man. I'm very happy to play second fiddle."
While the songs on 44/876 - the title is a combo of the country codes for Sting's native England and Shaggy's Jamaica - are musically lilting, behind the upbeat island rhythms and seemingly feel-good lyrics are often deeper meanings. The jaunty "Morning's Coming" and the dancehall-inflected title track both speak of an impending reckoning. Several other tracks have slight political undertones, including "Dreaming in the U.S.A.," a irrepressible love letter to the U.S. from the two that also ties in immigrants like Shaggy's mom, who came to America and held down multiple jobs seeking a better future for their children.
"This is my job here to put a vein of stuff in there that can be excavated and explored if you want," Sting says. "The general feeling is, 'Hey, it's this party,' but if you want to go slightly deeper, there's something profound. I wouldn't be able to do it otherwise. Our job as songwriters is to reflect the spirit of the times, as difficult as they may be, but then also give people a reason to get up in the morning. People should enjoy this record, the way we made it was joyful, plus think a little bit about what are these songs about."
During their short friendship, the two have influenced each other. Shaggy has made the Rock and Roll Hall of Famer more spontaneous, while Sting has turned Shaggy more deliberate.
"Normally, I would prepare a lot and be very closed until I was ready to reveal it to colleagues," Sting says. "Shaggy is so spontaneous, he's like, 'let's just go into the studio and do it.' So the whole album was created in this pressure cooker, which has given me this energy, which is always a good thing."
"He's brought me patience and intuitiveness," Shaggy says of Sting. "He's taught me to dissect a record down to the last T. … I used to do three or four songs a day, just write them, boom, boom, boom and done, because of how spontaneous I was. Listen, I've been successful, it's worked for me, but he's energized me because now I have this whole new way of doing it and I don't think I want to go back to the old way. This is more exciting."
In addition to Daddy Yankee and Marsalis, among the guests on the album are Robbie Shakespeare of Sly and Robbie, dancehall sensation Aidonia, DJ Agent Sasco, Morgan Heritage and Sting's longtime guitarist, Dominic Miller. Sting International, who has previously worked with Shaggy on his massive hits,"Carolina," "Boombastic" and "It Wasn't Me," produced the album. A deluxe version of the Interscope/A&M set will include five live tracks from the Bustamante Hospital benefit, including Police classic "Roxanne,"
While nothing is confirmed, Sting says the pair are "certainly thinking" about touring together. He has even considered how the evening should go with the two singing together instead of separate sets: "It's like how we are in the studio, singing three feet from each other."
Hearing of his friend's plan, Shaggy laughs and good-naturedly pokes fun at his new pal. "He's always 10 steps ahead of me," he says. "I guarantee if it's confirmed, he's going to have everything planned out and then he's going to send me an email. It's going to be all [bullet points] because he's an ex-school teacher, so he does that. Sometimes he acts like a principal. We haven't gotten to [the touring] part, [but] I would like to because we get along so well."
(c) Billboard by Melinda Newman