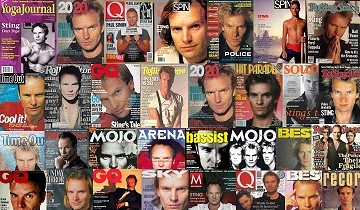 The following interview with Simon Osborne was by George Petersen and appeared in the December 2001 issue of Mix Magazine ...

Old and New Technologies Highlight Sting's Latest Release...

From his early days with the Police to his enormously successful solo career, Sting has always been personified as an artist who takes a different approach. And this attitude is woven through his music, which combines textures of rock, jazz, blues and world genres, as well as breaking new ground in terms of recording technology.

In 1992, this consummate world citizen commissioned a custom Solid State Logic console built into flight cases, allowing the board to be easily transported anywhere on the globe. More recently, Sting's long-time engineer Simon Osborne assembled a complete 64-channel Digidesign Pro Tools rig in a rack for use anywhere, anytime.

"Sting's studio is actually the portable gear," according to Osborne, "although we've got a small room in Sting's house that's been trapped and acoustically sorted out by Jonathan Flynn and Sam Toyoshima of AEG Acoustics, so it works like a proper control room and we can mix in it. So we don't have a studio as such we just have the gear, which we can move anywhere. It's a cool way of doing things."

The new portable rig was brought into action for tracking and mixing Sting's latest project. Released on November 20th, 'All This Time' is a 17-track live album, with Sting and his band performing some of his most celebrated songs in an intimate setting.

"It was recorded this summer in Tuscany - a small, semi-acoustic live show with 200 invited guests," says Osborne. "We're using the whole system that Sting bought back in '92 for the 'Ten Summoner's Tales' project. It's an SSL 4064 G+ console, with 64-channels. It's divided into three sections all in flightcases, so it's off you go."

'All This Time' was also recorded direct to Pro Tools. "It's something I thought about when we did the last record, because we did a lot of editing," adds Osborne. "We've had two Sony PCM-3348s since about 1995 when we were doing Sting's greatest hits project. Sting likes to edit, putting something down and rearranging the song and then starts writing more lyrics or putting another verse in there - that sort of thing. I've [developed] quite a technique editing on two 3348s, and while working on the last record ['Brand New Day'], I started thinking about Pro Tools, but I didn't want to change over halfway through the record. So when Sting went on tour, I started checking out the market to see what was around. In the end, we went with Pro Tools just like everybody else (laughs).

"When it came to mixing 'Brand New Day', I did quite a bit of A/B testing between converter sets and I singled out Prism converters as being very good. I placed an order for one 8-channel box then to feed the Genex recorder I bought for storing the surround mixes of 'Brand New Day'. We later went with 64 channels of Prism converters for the front-end of the Pro Tools system. The Prisms are a bit over-spec, because they can do 96kHz - which Pro Tools doesn't do at the moment - but will eventually. I just wanted a front-end that would last more than just a couple years and stay state-of-the-art."

The arrival of Pro Tools didn't completely change Osborne's recording/mixing style. "I've been mixing on the SSL for 15 years, and I'm used to it. I still use the SSL for the basic stuff and if I need to get the microscope out and do an automated pan or automated filter sweep, I can do that in Pro Tools I have both worlds at hand. Someday I might go totally Pro Tools, but for now it's mostly a tape machine with a lot of added edit features.

"The SSL is a great console and will be for a long time. It's like a lot of these old boxes; I still use the UREI 1176s - there's no reason to use anything else, or the Lexicon 224XL - a great reverb, although the new Lexicon 960L looks pretty handy. For Sting's vocals, we use a Sony valve mic - the C-800G - the one with the little radiator [Peltier cooling device] fitted on the back. It looks a little daft, but it works. I have some Shep preamps - the Neve copies - which are great on drums. I have a Summit and a couple Demeter valve preamps I use on vocals and bass. Most of the other sounds go through the Shep Neve copies which sound good. The design might be 25 or 30 years old, but the sound is state of the art."

Even as a fan of vintage gear, Osborne is unafraid to embrace new technologies, such as mixing to 96 kHz.

"If we're doing a video project, we mix into the Genex at 96kHz it divides well into 48kHz. On 'Brand New Day', we mixed at 88.2kHz: When we did the mastering at Abbey Road with Chris Blair, we came out of the Genex at 88.2 via a PRISM D/A using the analogue EQ in the mastering room and then into sonic solutions at 44.1kHz for CD."

Working in a variety of environments, dependable near-fields are an essential part of the mixing process.

"Quested have always been my favourite monitors," Osborne says. "I first came across them when I was the house engineer at Jacobs Studios [Farnham, Surrey, U.K.] in the late '80s. More recently I've been using the smaller 108s. I find a lot of monitors these days too bright, using Roger's [Quested's] speakers, I can produce a mix that I enjoy plus it holds together elsewhere."

Asked about his approach to mixing, "I try to find out what the music's all about and find out how it's supposed to work dynamically and emotionally," says Osborne. "Of course, if it's something I've recorded, I've been setting up rough mixes - essentially rehearsals for the mix--for months during the recording process. That certainly happened with Brand New Day, which we worked on for a year and a half."

But Osborne adds that the goal to mixing can be deceptively simple: "You need bring the emotion out and make it sound posh," he explains. In terms of surround mixing, Osborne has the tools he needs. "The SSL is quadraphonic, which is all you probably need for music. If I want to bring in a centre channel, I can just bleed it in with an aux send. Having done the fader automation on the SSL, I can then set up a mixing desk in Pro Tools with automated 5.1 panning, and that sort of thing."

Unfortunately, the aesthetic aspect of surround mixing brings new complications. "The best thing about doing surround is trying wacky stuff," says Osborne, but most home surround systems have two nice speakers that used to be part of their stereo and three little speakers for the rest. It's difficult to know whether you're making too much use of the other speakers. With DVD's storage capacity, you could do two mixes, perhaps a stereo mix that bleeds a bit of reverb into the rear speakers and a full-on surround mix that's quadraphonic. Ideally, I'd like to mix as a surround thing - have stuff go all around and in the back, with diagonal pans - rather than just enhanced stereo. It could be really exciting, but it all depends on the end user: you can't go blasting stuff into tiny little speakers in the back and expect it to work. Doing the DVD mixes for the new live record I put the listener right at the front of the stage, just about to get up there themselves - which is pretty exciting. It's like the early days of stereo mixing, where we had to worry about mono compatibility."

After all these years of creating memorable projects with Sting, Osborne remains humble about his contribution to these multiplatinum successes. "Sting's not the most technical person and isn't overly interested in bits of gear. He's really looking at the overall project, writing songs, etcetera. My job is looking after the gear and pressing record."

© Mix Magazine

Find out more about Simon at his website: www.simonosborne.co.uk.