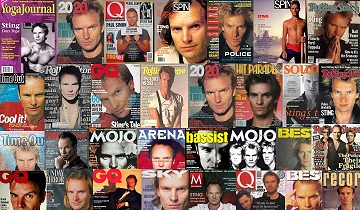 The following article appeared on the uDISCOVERMUSIC website in July 2020...
"This group of musicians were all happy to be there working with me," says Sting in an exclusive interview with uDiscover Music.

No one could say that Sting didn't take his time and choose his moment to segue into his solo career. On July 12, 1985, the day before he became one of the stars of the "global jukebox" of Live Aid, that moment arrived with the release of The Dream of the Blue Turtles. In an exclusive new interview with uDiscover Music, Sting reminisces about a staging post album that holds many happy memories.

The Police frontman had enjoyed global superstardom and multi-million sales with the English trio across the course of five memorable albums from 1978 to 1983. But during that time, the only release to bear his own name was the knowingly nostalgic single "Spread A Little Happiness." His cover of a 1929 composition by Vivian Ellis and Clifford Grey was used over the closing titles of the film adaptation of Dennis Potter's Brimstone & Treacle, in which Sting starred.

The Police recorded what turned out to be their final album, the world-beating Synchronicity, in early 1983 in Montserrat. They then toured it, performing over 100 shows in three continents, between that July and the following March. The inevitable tensions of the studio and the road took a toll that would curtail the group's reunion for an intended sixth record in 1986.
In any case, as always happens come the end of any worldwide tour, Sting, Andy Summers and Stewart Copeland had earned some personal time. Sting used his to realize a dream, in more ways than one, and to put together a band that would meet the scale of his new musical ambitions.

"We got on like a house on fire"

"I met Branford Marsalis," he tells us of the band's January 1985 origins, "and we got on like a house on fire and started talking about music. I said I was interested in starting a band. I didn't specify what type of band it would be. But obviously, the people he knew from the jazz world were from that world. They came from Weather Report, Miles Davis…Branford had played with [Art] Blakey and the first person he brought to my attention was Kenny Kirkland, who was this amazing piano player."

The line-up for the album was already taking shape. "As soon as he sat down and started to play," says Sting of Kirkland, "he was in the band. "That was much the case with everyone Branford brought in. Obviously musicians of a very high caliber, but they were also of a generation that had been brought up with pop and rock music as part of their landscape. It wasn't just [that] they'd only been exposed to jazz."

But by no means was the superstar planning to desert his rock audience. These musicians, he remembers, "knew where I was coming from, and the idea was not really to make a jazz record. We made a record with a feel of jazz, maybe, but the music was arranged and then we played it. Then everybody said, 'Oh, I'm making a jazz record.' But that wasn't the case."

A Blue Wave of creativity

Sessions for The Dream of the Blue Turtles began in March, in the conducive setting of Blue Wave Studios in Barbados. The album's title was inspired by a vivid dream Sting had on his first night on the island. He shared the production credit with Pete Smith. "It's a very difficult thing to define what a producer is," says the frontman, "and I think the only way to define it is by the limitations of the artist.

"Some producers do everything. They arrange the music. They even make the music. They, sometimes, write the music. They might even sing the music. Pete was a really good engineer and he had a really good vibe."

Other players on the sessions included future Rolling Stones bassist Darryl Jones and similarly revered drummer Omar Hakim. Combined with the core players Sting identified, the group worked happily and productively. "The atmosphere was obviously very good," he says. "We all got on. Pete Smith was very funny and kept everybody's mood up.

"It's the same way I've always worked," he goes on. "Music is a happy thing, and this group of musicians were all happy to be there working with me, working on this material, so it was a lovely experience."

The album's lead single would be the upbeat and uplifting "If You Love Somebody Set Them Free," which became a top three hit on the Billboard Hot 100 and topped the magazine's Mainstream Rock chart. Sting told the NME that the song was an antidote to The Police's "Every Breath You Take."

"I don't think the idea of loving somebody and setting them free is particularly original," he said. "Yet it's about love relationships in a larger arena than the property market of owning something, surrounding it with protection so you can control it, which is basically what most relationships are about. I'm not sure if I'm brave enough to actually believe it, loving someone and setting them free. But singing it helps in a way, if you say something long enough…"
"We're all human beings despite whatever flag is flown"

There were several notable dark lyrical themes running through the record. "Russians," for example, combined an easy appeal that turned it into a hit single with a feeling of lyrical foreboding. "I was brought up in the shadow of the Cold War in the 1950s and the '60s with this threat of nuclear annihilation over us," explains Sting to uDiscover Music.

"So, obviously, for anyone in my generation, that was on your mind a lot. And also this idea that I think [President Ronald] Reagan put out that the Russians were the evil empire, and they weren't quite human. I think that was the underlying text of all of that.

"So, I really wanted to get to the bottom of that. We're all human beings despite whatever ideology or whatever flag is flown at the moment. We all have the same fears and the same anxieties and the same hopes for the world."

Sting had an improbable co-writing credit on the track with Russian composer Sergei Prokofiev. "That was a favorite piece of music of mine for many years. It's the love theme from Lieutenant Kije, which is a suite that Prokofiev wrote, I think, in the '20s or '30s. I'd always loved that theme and it just seemed very appropriate to suggest Russia, to suggest the size of Russia, the romance of Russia, and I think that was very effective."

There was a similar regrettable timeliness about "We Work The Black Seam." "I come from the northeast of England, [and] the coal mines were very close to where I lived," says Sting. "In my town [Wallsend, in Northumberland], there were two jobs. You had the coal mine at one end and the shipyard at another, so I felt an affinity for the problems of the working class and what had happened to industry in the Thatcher years. So, it made me think about it."

"I don't treat my songs like relics"

The album made a clever reference to Sting's already storied past, with a new version of The Police's Zenyatta Mondatta track Shadows in the Rain, which he felt was ripe for reinvention. "They're my songs," he says, "and having a band, you want to reinterpret the songs the way maybe jazz players do.

"Some jazz repertoire is the same songs just reinterpreted every time they record. I don't treat my songs as being museum pieces or holy relics. They're there to be used. They're there to be adapted and have new life breathed into them."

Anticipation for The Dream of the Blue Turtles ran high, as Sting told the NME at the time. "There's as much excitement about the record in the record company as there would be for a Police record, which is quite thrilling," he noted.

The record took its bow to concerted applause from both fans and media. The Sydney Morning Herald called it "one remarkably fine album," while Billboard deemed it "perhaps the most anticipated release of the summer, and the wait proves well worth it: Police vocalist/bassist's solo collection features 10 tunes, and not a throwaway in the batch."

"Fortress Around Your Heart" followed "If You Love Somebody Set Them Free" into the pop top ten in the US, where both "Love Is The Seventh Wave" and "Russians" were also top 20 singles. "Fortress" was, Sting said in an interview on the All This Time CD-Rom, "written in the studio in '85, in Barbados. I'd just been playing around with those chords on the guitar - strange, modal chords.

"What starts as love ends in war"

"They sounded kind of medieval actually and so I got into a whole line of thinking about medieval sieges, castle walls, siege guns, armies sleeping under tattered flags and thought it was a nice metaphor for love gone wrong. Armies fighting each other, relationships having collapsed and gone from bad to worse, and what starts as love ends in war."

The album came as close as could be to topping the US charts, spending no fewer than six weeks at No. 2. It went both gold and platinum by the end of August, double platinum the following February and triple in 1994. Double platinum status arrived in the UK in 1992.

The band were playing live not only before the album's release, but before its recording, with a run of shows at the Ritz in New York in February 1985. The Blue Turtles Tour itself started in August, with a vast North American itinerary into November. A European leg then ran until Christmas, with UK dates in January and early February, more European dates, an Australian sequence and finally another handful of European dates. The November 1985 film Bring On The Night documented the band and its performances on that tour. It went on to win the Grammy Award for Best Music Video, Long Form.

"That was a fantastic band"

"They were all fun to play," says Sting. "That was a fantastic band. If you saw that band, it blew people's minds. The first gig we did was in Paris. We rented a theater called the Mogador for a week, and we played the new material for a whole week. It was the same week that one of my sons, Jake, was born, so that was a big memory. I would go straight from the stage to the hospital at least two nights in a row.

"But yeah, we just had a great time," he concludes. "It was lovely. We lost Kenny Kirkland a few years ago. But Branford and I are still friends and we all have a lot of fond memories of those times."

The Dream of the Blue Turtles can be bought here.
(c) udiscovermusic by Paul Sexton