Sting, Jonas Brothers, Halsey and OneRepublic to headline second edition of iconic music festival in Mumbai - Lollapalooza India 2024 to also feature Keane, Lauv, Jungle, Royal Blood, JPEGMAFIA, Meduza, Malaa, Caribou, The Rose, Eric Nam, Anoushka Shankar, Fatoumata Diawara, Kenny Beats, The Raghu Dixit Project, When Chai Met Toast, Garden City Movement and many more across 4 stages and over 20 hours of piping energy and unforgettable live music. General on-sale of tickets for Lollapalooza India 2023 are now live on lollaindia.com. There are no fan club pre sales for this event.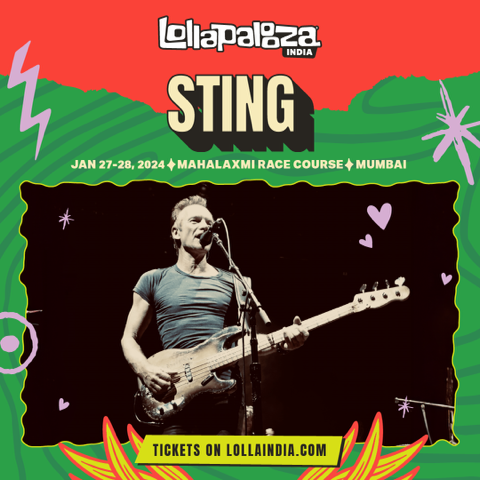 Iconic multi-genre music festival Lollapalooza India is all set to return with a second edition that will bring with it, an assortment of unique, diverse and exciting flavours from the world of music and culture. With the massive success of the Asia-first edition earlier this year, Lollapalooza India is now gearing up for an even more exciting second edition that will carry forward the legacy of the most diverse music festival to enter India and the Asian sub-continent.

On January 27th-28th, 2024, Lollapalooza India will once again transform the iconic Mahalaxmi Race Course, Mumbai into a captivating haven for all music enthusiasts, showcasing an eclectic line-up of renowned artists from around the globe and India across a two-day extravaganza. Featuring four stages with piping energy and over 20 hours of unforgettable live music performed by some of the biggest names globally and locally, here is Lollapalooza India 2024's much-awaited artist line-up!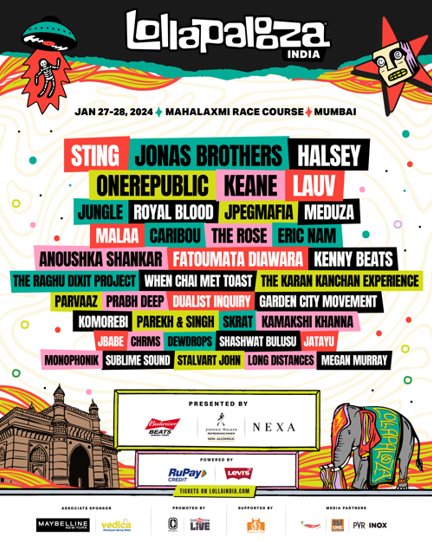 Taking the stage will be none other than the world-renowned and amongst the most prolific music icons Sting and formidable, household names in the world of pop rock bands, Jonas Brothers while influential and unconventional pop singer-songwriter Halsey, dynamic live performers and anthem belters OneRepublic, piano rockers of alternative rock Keane, bold and fearless pop phenomenon and singer-songwriter Lauv, modern dance music duo Jungle, inimitable sound rockers Royal Blood, radical and unorthodox hip-hop rapper JPEGMAFIA, Italian electronic dance music artist Meduza, French house DJ Malaa, eclectic, psychedelic and pop music blending Caribou, K-pop and rock music fusion powerhouse The Rose, bilingual K-pop American blend of pop, R&B and soulful vocals of Eric Nam, pioneering world music sounds blended with Indian folk and classical melodies by Anoushka Shankar, one of the most vital standard-bearers of modern African music Fatoumata Diawara, global festival favourite hip-hop record producer and DJ Kenny Beats, India's most sought after contemporary Indian folk band The Raghu Dixit Project, homegrown favourites multilingual indie-folk alternative band When Chai Met Toast and Israeli alternative indie electronic pop sound masters Garden City Movement will also bring their tonal genius to Lollapalooza India 2024 at the multi-genre music festival's second edition in the Asian continent.

And it doesn't stop there! Lollapalooza India 2024 will welcome the freshest of international sounds and home-grown superstar performers including The Karan Kanchan Experience, Parvaaz, Prabh Deep, Dualist Inquiry, Komorebi, Parekh & Singh, Skrat, Kamakshi Khanna, JBABE, Chrms, Dewdrops, Shashwat Bulusu, Jatayu, Monophonik, Sublime Sound, Stalvart John, Long Distances and Megan Murray - for an eclectic and unforgettable musical start to 2024 in the Asian subcontinent. With community at its core, Lollapalooza India 2024 will continue its efforts for sustainability, inclusivity and accessibility under #LollaForChange and focus strongly on creating impact through entertainment.

Phase-wise tickets for the second edition of the star-studded Lollapalooza India 2024 are now live on lollaindia.com. Get your hands on tickets for the hottest, most diverse music festival as early as you can! Lollapalooza India has ushered in an era of thriving live music created by some of the most head-turning global and home-grown artists. Connecting with 60,000 fans over two days through high-impact energetic performances, cutting-edge stage production and immersive festival experiences, the festival has been a melting pot of musical genres, featuring everything from pop, rock, hip-hop, indie, Electronic Dance Music (EDM), techno and a host of new Indian sounds that have been discovered by thousands of music lovers in its debut edition in 2023.
Lollapalooza India is produced by Perry Farrell, C3 Presents and BookMyShow.
Global and home-grown brands such as Budweiser Beats Energy Drink, Johnnie Walker Refreshing Mixer Non-Alcoholic, NEXA, RuPay, Levi's®, Maybelline New York and Bisleri Vedica Himalayan Spring Water along with Maharashtra Tourism will support the festival in 2024 and together elevate the festival experience on-ground.
Fans and members of #LollaSquad can stay updated on the latest action about Lollapalooza India by visiting lollaindia.com and on social media:
Facebook: @lollaindia

X (Twitter): @lollaIndia

Instagram: @lollaindia

YouTube: Lollapalooza India