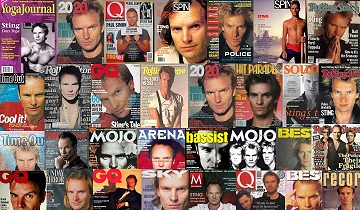 The following article by Jonathan Ringen appeared in a 2018 issue of Rolling Stone magazine...
Inside Sting and Shaggy's Unlikely, Caribbean-Inflected New Album - How the former Police bassist and Jamaican dancehall star teamed up for a wild, Caribbean-inflected LP...

"Sup' Sumner," says the Jamaican-American dancehall-reggae star Shaggy, as he emerges from the elevator at New York's Sear Sound studios and greets the bass player he's been working with on a new album.

This particular Sumner – also a singer and songwriter whose real first name is Gordon – is much better known by the nickname he's employed since he formed the Police four decades ago: Sting. He and Shaggy are in Manhattan – where Sting lives and Shaggy often records, although his family is based in Kingston, Jamaica – to put the finishing touches on the Caribbean-inflected album 44/876 (out April 20th) that they're been crafting together on and off for the last few months. "The most important thing to me in any kind of music is surprise," says Sting, whose distinctive tenor, it turns out, is a highly appealing match for Shaggy's gruffly melodic dancehall toasting. "And everybody is surprised by this collaboration – by what they're hearing. We're surprising."

Today the pair is a couple of weeks away from the release of the the vibey, catchy first single, "Don't Make Me Wait," which combines Shaggy's lover-man patter with a plaintive hook and pulsing bassline from Sting. If they seem like an unlikely pair, it's hard to imagine two people more delighted by each other's company. Shaggy grabs a bottle of Ting – Jamaican grapefruit soda – out of the fridge: "Remember when I told you about Ting? We gotta get something to mix this with." Sting holds the bottle up next to his face, cracking Shaggy up with the Sting-Ting connection, and asks, "Did you see the lyrics I sent you this morning?" (The song will be released across all major platforms on Thursday.)

"Yeah, I really liked the first one, because it says where I'm from," Shaggy says. "I was trying to figure out how to work that in, something about Jamaica, but it's better if you say it."

Jamaica, unsurprisingly, looms large over the collaboration. For Sting, like a lot of British musicians of his generation, reggae and ska were foundational texts. "I've always had an affinity for the island," he says. "I recognized that it has a magic you just can't explain."

They head into the control room, trailed a by a squad of mostly Jamaican collaborators, including the impressively dreadlocked songwriter Taranchyla and (somewhat confusingly) Shaggy's longtime producer Sting International – who worked with the MC on his Nineties-dominating hits, including "Mr. Boombastic," "It Wasn't Me," and "Oh Carolina." "I call him Sting Universal," Sting International jokes, nodding towards the UK star. Other contributors to the project include Sting's longtime guitarist Dominic Miller and reggae legend Robbie Shakespeare, who was scheduled to drop by studio the following day to take over bass duties on one tune. "We're getting a real bass player in here tomorrow," Sting cracks.

The duo first hooked up this summer during a Shaggy session at L.A.'s The Village studio produced by Martin Kierszenbaum – who was the MC's A&R rep during his Nineties hitmaking run and who is now Sting's manager. Kierszenbaum had sent Sting an in-progress Shaggy tune, "Don't Make Me Wait," and the British star was immediately struck by the song. He left his West Coast home in Malibu and headed to the studio, where he surprised Shaggy by rolling through the door singing the hook. "I just said, 'as far as I know, that sounds like a hit to me'," Sting says. "I sang on the chorus, and then we tried to figure out a way to make it more of me than just a chorus, so we got a verse together."

Shaggy had already been feeling good about the song, but Sting's endorsement was major. "Once he cosigned it, I was like, "Fuck, I was right! The god" – he points at Sting – "says it's a hit!"

A bottle of Jamaican white rum appears, and Shaggy sets to mixing up drinks for the crew. The engineer cues up "Don't Make Me Wait" and the dancehall star cheerfully sings along. He gives his assessment as the tune ends: "Doesn't that just sound like something that hundreds of women would get pregnant to?"

Since that first session, the pair have written an LP's worth of tunes together in the studio, ranging from the deep-groove reggae ballad "22nd Street" to the sleek Eighties-ish pulse of "Waiting for the Break of Day," which sounds like lost single from Sting's 1985 smash The Dream of the Blue Turtles. "Dreaming in the U.S.A.," which has a Police-meets-Motown bounce, is a pure blast of musical joy and a love letter to Sting's chosen home of America. "It's the movie stars, the music, Louis Armstrong, Sinatra, Elvis Presley, James Dean," he says. "But it's a love letter that says, 'Don't destroy this dream,' because it's a dream the whole world shares. And if the American dream dissipates, there is nothing to replace it."

The songs have a clear pop appeal that the duo says is a response to the circumstances of their creation. During "Morning is Coming" – an uplifting, horn-sweetened roots reggae jam that Sting says "epitomizes this partnership" – Shaggy leans over and says, "This is exactly the record the world needs now." Sting elaborates: "We're having a lot of fun, but in this [political] climate instead of going down, we want to raise our game."

And as much as they've bonded musically, the pair have become real friends. "Against all odds," Sting notes, as they both laugh. The previous night, Shaggy joined Sting at the premiere of his wife Trudie Styler's acclaimed new movie Freak Show. And a week before that, Sting jetted down to Kingston to perform "Don't Make Me Wait" at a benefit concert Shaggy was throwing for a Kingston children's hospital. The pair spent a day traveling around the Jamaican capital while shooting a video – an experience that made a big impression on Sting. "This guy?," he says, nodding at his collaborator. "He's like the pope of Jamaica."

(c) Rolling Stone by Jonathan Ringen