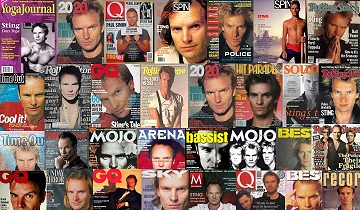 The following article appeared in a February 2023 issue of The Sydney Morning Herald...
'It's very healthy': Sting on tantric sex and being a serial grandfather

It is not every 71-year-old grandfather of seven and father of six you'd ask about tantric sex, but it is musician Sting I am talking to – and he is renowned for once boasting about seven-hour sessions of it.

"I knew you were going to ask that," he says from his Wiltshire home, where he spent most of 2020 and 2021 during COVID-19 lockdowns with wife Trudie Styler.

It was exaggerated, anyway, he claims. When he said seven hours of tantric sex he meant dinner and a movie in the mix. You'd think he'd be sick of being asked about an off-the-cuff comment he made in 1990 about his sex life with Styler, but no.

"I don't mind that at all – it's very healthy," he says.

"We didn't discuss sex with my parents ever" – and now he gets to talk sex with journalists the world over. "I'm fortunate in many, many respects, and having my health at this age is something that I don't take for granted. I've lost a lot of friends that didn't make it this far. And so I appreciate every day as it comes."

Now he is headed to Australia for the first time in seven years on a world tour for his 2019 My Songs album, the 13th solo album for the 17-time Grammy winner born Gordon Sumner.

It is his golden oldies back catalogue, some songs like Every Breath You Take and Roxanne from his days with The Police, others like Fragile and Fields of Gold from his solo career; all new renditions of old songs.

He is touring with musician son Joe Sumner, one of his two children who have followed him into the music industry; the other four are actors and filmmakers. It's all a far cry from his childhood in Tyneside, where he grew up the eldest of four children of Ernest, a milkman and Audrey, a hairdresser.

"I could have been a milkman like my dad – I was a school teacher before I did this, but I knew I wasn't going to make my fortune there. I wish teachers were paid more. It is an important job.

"If you were a carpenter in the old days, because your dad was a carpenter and his dad before him, you would go into the family business, so it's not that unusual. If Joe wasn't any good, I wouldn't have him out on tour. But he is and he's a dad himself now, and has a better understanding of me. Because it's more like we're mates now than father and son."

Sting, who describes himself as a "serial grandfather", has just spent Christmas skiing in Montana with all his offspring. "Not that I saw that much of them, because I am a very slow skier. I saw them at the top of the mountain and at the bottom but not in between."

He said he missed family gatherings during the pandemic but recording his latest album The Bridge during lockdown helped keep him sane.

"I quite enjoyed those years off – I got a chance to spend some time with my wife and be in the same place for more than one night. It is probably the longest we've spent together in some time … we're still married."

"I didn't want to write about the pandemic. But unconsciously I did because the concept of the bridge – music as a bridge between individuals – this is my connection with other people. I'm not much of a talker, but I can sing."

He is thrilled to be touring again though, speaking to what he calls his "well-dressed and well-educated audience", via song. And especially pleased to be coming to Australia.

"It's always felt like home. I've been coming here since 1980, so that is 43 years. I think the links between our countries are still very much there. It feels like I'm in a culture that is close to me."

When I tell him I still have my blue vinyl version of his 1985 first solo album, The Dream of the Blue Turtles, he gets nostalgic for his record collection.

"It is locked up somewhere in a warehouse. I stream my music now, which is very convenient. But I'm thinking of buying a sound system now because I miss the ritual of finding a record, taking it out of the sleeve, blowing the dust off and putting it on, putting a needle on. I think I'll bring it back into my life."

After his world tour he heads back to Las Vegas, where he will be a resident performer in the vein of Elvis Presley and Frank Sinatra.

"It was never something that I ever thought I'd end up doing because of the stigma that used to be attached to it. But it's no longer there as everybody plays in Vegas. We're all doing these residencies. But they're not really that, you play eight shows in a row. And then you leave. In the old days Tom Jones, Frank Sinatra were tied out to the place, as was Elvis." Not so now.

In 2005, Sting wrote a memoir about his early life, Broken Music, but said he stopped writing at the point of fame and joining the Police, and is not tempted to write more of his life story now.

"I'm living the second part of my life and whether or not I would write it down is moot. I don't know whether I need to do that. I tell my life story every night through my songs. This is my biography."

(c) Sydney Morning Herald by Helen Pitt