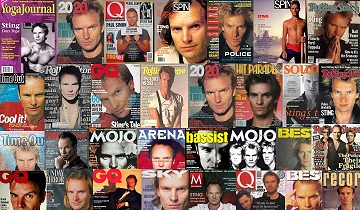 The following transcript from December 2006 is of an interview with Lute News...
As a lute player, you would probably have to have been trapped at the bottom of a mineshaft or working on the international space station for the last six months not to have heard about Sting's new album of Dowland lute songs, recorded with Bosnian lutenist Edin Karamazov, and released on the Deutsche Grammophon label in a welter of publicity, a couple of months ago. It has quickly become the all-time best-selling Dowland album, and got to no. 24 in the UK pop charts, no. 25 in the USA, no. 11 in Germany and no. 10 in Italy. It reached the top of the classical charts in France and elsewhere. Not all the classical critics have approved, but the Gramophone review perhaps hit the nail on the head with the remark that 'Sting and Karamazov manage to bring Dowland before the listener as a living, breathing person in a way more orthodox recordings often fail to do'.

Interestingly, Sting came to Dowland's music not as a result of hearing by chance a radio broadcast, record, or concert item, but through the repeated prompting over many years of friends who sensed his affinity with Dowland's music - whether for his voice, his intellectual interests or the timeless persona of the alienated singer songwriter. Nearly 25 years ago the actor John Bird suggested he should investigate Dowland, prompting him to go and listen to some of the Peter Pears and Julian Bream recordings. Over a decade later the pianist Katia Labeque encouraged him to learn two or three songs, and would accompany him at the piano at informal soirées. A few years further on still, the guitarist Dominic Miller commissioned an 8-course lute from Klaus Jacobsen as a gift for Sting, and also introduced him to Edin Karamazov, who gave him further encouragement, and the two began to work through the Dowland songbooks. This musical partnership has now borne fruit in the new CD, which is subtitled 'Songs from the Labyrinth', alluding to the winding path by which Sting has come to perform Dowland's music, the mediaeval maze pattern which forms the rose of Sting's lute (he has full-sized one in his garden), and surely also the mysterious and complex elements in Dowland's music, and life.

CG: I'd like to begin if I may by saying a very big thank on behalf of all us lute and Dowland afficionados for what you have done. For years we've been saying that what we needed in order to get more people interested in the lute repertoire was for a rock star to play the lute, and now you've done that. I don't want to ask you too many questions you've been asked before, and have answered in the press, or in the CD booklet, but can you put into words the affinity that you feel, and that some of your friends obviously noticed when they suggested you sing Dowland, with Dowland's music. What part of you connects with what part of Dowland?

Sting: I think all English music of the last 400 years is built on the same bedrock, which is folk music. Dowland obviously was steeped in folk music, as was Vaughan-Williams, as was Benjamin Britten, as were the Beatles, and in fact as am I. When you scratch away the surface of what we do in a contemporary way you find those elements. I don't think it's a great stretch from modern songwriting to Dowland, it's part of a legacy. I think we owe a lot to Mr Dowland, as the figure of the alienated singer-songwriter is something he practically invented. We are part of that tradition. Obviously there is a level of sophistication in his songwriting: they are art songs, but at the same time they are songs to be sung around a table by whoever wants to sing them. I really enjoyed putting out own idiosyncratic stamp on something that has been around for a long time.

Yes, the elements of lyricism, narrative and the importance of words certainly have a lot in common with the folk tradition. Klaus Jacobsen made you that beautiful lute with a rose in the form of a 'troy maze', I think it's called?

It's based on one in Chartres Cathedral.

How are you getting on with the lute-right hand technique for instance? That's the sort of nerdy question lute players have to ask!

My playing is getting better! It was a nightmare at first, for a guitarist, being a completely different technique, different fingering and tuning. It's been a hugely challenging and entertaining journey, and I'm well on the way. I have Edin Karamazov as a mentor and guide and I watch the way he plays and think, well one day, perhaps...

He's a fantastic player, I can tell that.

And a very idiosyncratic player. It's a wonderful instrument, and I'm so glad to have discovered it. I am playing the archlute and I love the harmonics and the tonalities of it, it's very rich.

And you've got all those lovely bass notes as well on the archlute.

I am starting to write lute music as well. It won't sound like renaissance music, but it has certainly has given me some inspiration.

I was going to ask you if you have any more lute-related projects in mind. Another album perhaps?

Well, obviously I shan't be doing another pop album, but I think what I've learnt in the last couple of years doing the new album will be implicit in what I do in future. Whether anyone will recognise it is another matter, but the things I learn tend to work their way into whatever I do.

And how are you getting on with tablature?

I had never played from tablature before; I always played from staff notation, and I found it baffling at first. But I think it is more logical than staff notation.

Well it's easier than staff notation when you have learnt to play from it, and answers a lot of questions about fingering before you start.

I don't think I could do things in reverse and get staff notation from tablature. But I have now worked my way all the way through Dowland's works, and I can have a bash at everything now. I'm thrilled with it.

The lute is demanding mistress, but there's a lifetime's satisfaction in the music.

It has its own resonance, and it's a pleasure to play.

According to the tracklisting, you don't self accompany in any of the songs on the album; anyone who has tried self-accompanying on the lute will know how difficult it is, though it does have the advantage that you can pull the rhythm around as much as you like on the spur of the moment. Were you not tempted to do that? Of course you've got a fantastic accompanist there in Edin...

Obviously, I didn't need to with Edin there to accompany me, but I since we've recorded it, I can accompany myself and enjoy doing so... though there's no need for Edin to be nervous! For me to learn the lute and sing the songs gave me a much deeper understanding of the songs than just learning the top line - seeing how the songs were built, with counterpoint, bass and so forth. It gave me a deeper knowledge of the songs.

Well yes, the English ayres represent a moment of equipoise in English songwriting, with a balance between beautiful melody, a wonderful poem, and, in the 16th century tradition, they were still interested in the counterpoint of the accompaniment. Did you have difficulty narrowing down the choice of songs for your album? Were there any favourites you felt you had to leave off, or did you feel you wanted to present a particular face of Dowland as a composer?

Obviously we learned and recorded more songs than we put on the record. But they more or less chose themselves - ones that suited my voice. We recorded a couple more: 'I saw my lady weep' for instance. We did some other repertoire from the period: a bit of Campian, and a couple of Italian songs from the period, but it was the Dowland that seemed to draw our attention.

You didn't do any songs from the Pilgrim's Solace I noticed; a lot of those are religious - perhaps more difficult for pop audiences?

Well, we did include Robert Johnson's 'Have you seen but a white lily grow?' which I love. That's a bit later of course, it wangled its way in; there's a connection with John Johnson, Robert's father, who is mentioned in one of the readings on the CD, in Dowland's letter. I didn't want to leave that one out!

Lute songs are very text-led; do you read a lot of poetry yourself?

I studied poetry; I used to be an English teacher. So I have an affinity with the poetry; Dowland was writing at the same time as Shakespeare and the richness of language is not daunting to me.

You've mentioned in the CD booklet and various interviews that you listened to the records of Peter Pears singing with Julian Bream, and also that you discussed lute songs with Tony Rooley. Did you listen to a lot of other recordings, and if so are there any you feel particularly influenced you?

The most recent one that I listened to was actually with Edin, accompanying Andreas Scholl. I listened to that with great attention. I realised of course I am not a countertenor. I respect it, and I love it, but I thought, that's not what I am going to do.

Your performances are so passionate and so fresh, I can picture you listening to some of the recordings there have been before, and thinking, 'these guys are missing a trick' in terms of expressing these very passionate songs - I am not asking you to criticise other performers of course...

I was looking for a way of saying 'this is me'. I can't imitate, and would not want to imitate, anything that has gone before. I just wanted to create something unique; people will either like it or they won't, but I've been true to the notes on the page.

I loved the multi-tracking as a way of having all the different voices of Dowland's four-part writing; I was glad you'd put those vocal harmonies in.

Well it doesn't sound like a consort of singers; it sounds like something different, and stranger.

But you respected the notes.

Yes, I respected the notes. What I do on pop records is to accompany myself, which is great fun, but it's a different sound from what a wonderful choir would produce.

But it's very effective though; multi-tracking gives a wonderful, rich, cohesive sound.

If I can ask you to cast your mind back to when you were preparing the album, what sort of artistic choices did you feel you were making in interpretation? For instance, a lot of what you do is quite daring and innovative, and Edin's playing is quite daring too; did you feel either 'let's push things a bit further', or else, 'that's going too far'.

In the strophic songs I decided I didn't always want to do all the verses, and I would encourage Edin to experiment a little bit here and there. I had to think about the pace of the album. I was very keen that the modern listener, including a lot of people who had never heard a Dowland song before, would enjoy this album. So I tried to give it the ambience of a movie soundtrack, with the reading from Dowland's letter, a distant bell ringing, dogs barking and birds singing. You are entering a world - it's not a museum piece. And people have responded very well to that; people have said they hadn't expected to enjoy it but they did.

Personally I enjoy it more every time I listen to it.

Generally that has been the reaction of the people in the early music world.

In the 50s and 60s and 70s Alfred Deller and James Bowman interpreted these songs for a generation, and then in the late 70s and 80s Emma Kirkby reinterpreted them, and now you've interpreted them again. What influence would you like your album to have on the way these songs are performed?

Well I didn't set out to influence people! Singing Verdi requires a certain technique. But these songs I imagine were created to be sung around a table. Did everyone in the Elizabethan era have a refined and wonderful trained singing voice? I doubt it. Did Dowland himself have a great singing voice? We don't know. But if you are true to the spirit of the story you are telling, and the marks they made on the paper . . . everything else is moot. These songs belong to everybody.

That's what a lot of people in the early music world would say, they would agree with you. Personally I would like your album to have an influence, because it's so bold, for instance in the word painting. On the words 'hellish jarring sounds' in the song 'In darkness let me dwell', a lot of singers would think 'should I make some hellish jarring sounds there? I'd better not, my singing teacher wouldn't approve', but you give your voice a bit of rasp there, and it works fantastically well.

It is obvious to me that there should be a discordant sound there.

You are right, but a lot of singers still wouldn't pluck up the courage to see the thing through. Some of the newspaper critics - not Dowland afficionados I suspect - have been quite rude about the album and the launch concert. I hope this hasn't hurt your feelings, or put you off the whole project.

I quite like the energy of the debate around the question 'what is proper singing'? I think the debate has been good for the record, and has provoked people to listen to it. I would say no more than a few percent of listeners have been outraged; most people have said they thought it was fresh, brave, new and honest. Some people have been outraged but I welcome it all, we are riding the wave of debate.

As long as it doesn't put you off - lots of lute players are rooting for you!

I have a very thick skin and very broad shoulders.

On listening to your album again and again, I feel it has captured the spirit of these songs, while some of the nay-sayers are not really Dowland enthusiasts anyway, and perhaps don't really understand what the songs are about.

I played the CD to Tony Rooley before it was released, and he was very enthusiastic about the idea of re-inventing these songs; we played them to David Pinto as well, so we did put feelers out. We did care what people thought, and most people's reaction has been very positive.

Is there any chance of yourself, or Edin, or both of you, coming to give us a recital at the Lute Society in London at some point?

I would want to do a bit more practice before I do that. But this is an ongoing thing, we will keep playing and evolving in the work, and I am sure we will . . .

That would be marvellous. Thank you very much for sparing the time to talk to me, goodbye.

(c) Lute News by Chris Goodwin