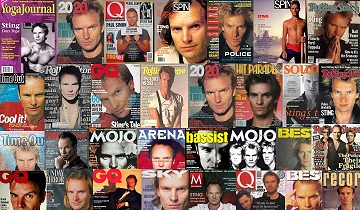 The following article appeared in a June 2022 issue of The Sunday Times...
Joe was born in November 1976. I was 24 and a teacher. I knew that the window was closing on any dream I had of making it as a musician. In many ways Joe was the catalyst for realising my dreams. I recognised that while he was a baby he was moveable, so we headed down to London from Newcastle and slept on friends' floors. I used to take Joe to band practice; his carrycot would prop up the bass drum. I'd have to stop in the middle of rehearsal to feed the baby.

It might seem like the Police had a meteoric rise, but we did the work. We played thousands of gigs in the late Seventies. As a teacher I'd had the experience of entertaining juvenile delinquents and it's not much different from being a rock star — but I'm not saying my early audience were all juvenile delinquents. We weren't really a punk rock band; we flew the flag of convenience. Andy [Summers, the guitarist] was a dad, Stewart [Copeland, the drummer] was married, we were pretty regular guys. We were touring America in 1978, turning on the radio as we drove into a city and Roxanne was everywhere — that and Dire Straits' Sultans of Swing. It felt like the Geordies had made it. After that I didn't see a lot of Joe. I was always touring. How do you balance a music career with family life? You can't, so it was a conscious choice, but eventually things pan out.

I'd never really had any ambition to be a parent; I wanted to be a successful musician. At the same time I did the job, provided for my kids, gave them some schooling, fed them. Joe is a big guy, so obviously I fed him well. Was I a perfect parent? No, it's a balancing act. Whatever you do, it's going to be wrong. When my marriage [to Joe's mother, the actress Frances Tomelty] broke down, it was tough. Joe [who was eight] was traumatised for a while. He's a father now himself, so I think we're getting to that mutual understanding stage.

My parents were musical. My mother was a piano player, my dad sang. When they weren't fighting, they would perform, so that wasn't very often. The idea of having a lineage as a musician is something beautiful. It's a very noble way of making a living. We don't harm anybody and you can make a lot of money. Joe would watch me practice but I never forced it on him.

You learn on the job how to shield your family from the press. You develop a thick skin. I was a grown-up but I feel for younger artists when they are on a show like The X Factor and become massive stars. If suddenly you are not the biggest act in the world, it becomes very tough.

In 1983 I left the Police. I saw that after such huge success it would just be diminishing returns. It surprised people, but also gave me the momentum to start another career [as a solo artist], so even if I failed, at least people would notice. I got lucky and had a hit album, The Dream of the Blue Turtles [in 1985].

I'm 71 in October, but you're as old as you feel. I'm doing the job of a 25-year-old every night on stage. You really have to prepare for retirement. You have to have a hobby — I don't have any. My life is music. It's like asking a fish what happens when the water.

I remember Joe as a teenager turning up one day with his band. I thought, yeah, my kid has a voice, an attitude, he can do it. Seeing your kid performing is an out-of-body experience; you recognise the DNA, something they might have got from you. Joe has been supporting me on tour. He wouldn't get anywhere near the stage if he wasn't any good and he knows it.

The only advice I give all six of my kids [Joe and Fuschia Kate from his marriage to Tomelty; and Mickey, Jake, Eliot and Giacomo from his current marriage to Trudie Styler] is that making art is its own reward, regardless of how many albums you sell. Joe says it's easy for me to say that, but I'm telling the truth. It's a difficult shadow for him to live in, but my dad wasn't any help to me; he was a milkman. I don't want to help Joe too much. You don't want to rob kids of the engine of ambition by giving them everything. They aren't trust-fund kids — they work hard. I'm very proud of them.

Joe

I wasn't really aware of Dad's fame during the very early days. Then one day he came to pick me up from school and I remember asking him why people wanted his autograph. As a kid it seemed uncool to follow in your parents' footsteps. The idea repelled me. It was just a lot of grown-ups running around being pretentious.

From the age of eight I would go on tour with Dad during the school summer holidays. I liked the whole teamwork aspect with the road crew. I would tune the guitars, plug lights in. My teachers definitely looked at me differently because of Dad. Sometimes it was a little creepy, like a perverse fascination. They would overlook my failings as a student because they didn't want to be coming down too hard on me, as Dad was paying for my schooling and had this level of celebrity. But being held to a lower standard does you no favours.

Then at the age of 14 I found myself in a band. Nirvana's Nevermind album changed everything for me. I picked up the guitar, did my best to be Kurt Cobain, but then I realised I'm not Kurt, life's not so bad really, so I kept going from there.

I had plenty of starry moments growing up. I'm aware of privilege and sometimes wrestle with it. I get angry when Dad gets stick in the press, but then you are a fair target to be criticised sometimes. I read the paper and think, "You bastards, look what you've done, you've said this thing about Dad …" But I also know how things get taken out of context. If you are playing a gig for a Russian billionaire and they are paying, should you be taking their money? All you are doing is playing a gig — they don't have anything to show for it afterwards. It's a very strange world we live in. [In March Sting said the days of musicians performing private shows for oligarchs were over. He performed at the wedding of Russian billionaire Mikhail Gutseriev's son in 2016.]

My career has always been this little dance. Avoiding my dad's whole existence or embracing it head on — that's always been tricky. I paid my dues, riding around America for ten months in a van with my previous band Fiction Plane. We did a gig with Coldplay 20 years ago, then they went straight to arenas. I saw the drummer, Will, and he was saying, yeah, it's tough, and I thought, you don't know it's tough, but good for him. In music, I feel like I'm just getting started and that's exciting.

A deluxe version of Sting's latest album, The Bridge, is released on June 17. Joe's solo album, Sunshine in the Night, is released later this year.

Strange habits

Sting on Joe He always beats me at Scrabble. I'm currently 50-0 down

Joe on Sting He's never surprised. I could jump out of a plane and land where he's having dinner and he'd just say, "Hello".

(c) The Times by John Coleman