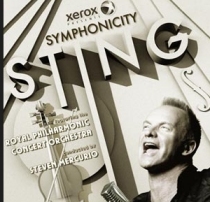 Orchestra perfect partner for artistry of Sting...
If any one songwriter is built for full orchestral backing, it's Sting. The sexy, wiry and worldly former Police frontman has written dozens of epic tales, like a modern-day Chaucer with a great tan and Brooks Brothers shoes.
So it's no surprise that 26 of Sting's songs - solo and with the Police - sounded sweet alongside the Royal Philharmonic Concert Orchestra Friday night at Bethel Woods Center for the Arts. Just like a pair of Brooks Brothers shoes, but extra shiny.
The orchestra, above all, made the night unforgettable. Tight, rich and highly skilled, the players - led by composer Steven Mercurio and highlighted by first violinst Gerald Gregory and clarinetist Cerys Green - hit all the right notes under a classy and gorgeous stage setup. Mostly, the orchestra simply added lush padding to Sting's stories. But lesser-known solo songs such as 'Moon Over Bourbon Street' and 'Whenever I Say Your Name' received grand re-workings and sounded terrific, while the legendary 'Roxanne' was successfully made a mysterious ballad, changing the song from a young man's pubescent yearning to a wise adult's sympathetic croon.
A wise move, indeed, and wise to put all the big hits together, at the top and bottom of the show. 'Roxanne' was bunched with a tepid 'If I Ever Lose My Faith In You', a whimsical 'Every Little Thing She Does is Magic' and a cool 'Englishman in New York', which elicited early cheers for its local nod. Also getting recognition was Rhinebeck bassist Ira Coleman, who was called "the local lad" by Sting.
After a run of solo songs climaxed by the chilling rifleman epic 'I Hung My Head', Sting - dapper in blazer and slacks - closed his first act by unleashing the electric guitar and sending the crowd to screams with the very first Police album track, 'Next to You'. The crowd quieted during the second set - with Sting unbuttoning a piercing white shirt and playing tango master - until he broke into the Police's 'King of Pain'. That got everybody jumping. He followed up with 'Every Breath You Take', which had everyone singing. Those were the songs the Bethel crowd of 10,300 wanted to hear.
Make no mistake, though: Sting likely sold a few dozen listeners on his less popular solo work. The Cold War relic 'Russians' was fierce with soaring violins and horns. Fox-hunt story 'The End of the Game' felt airy and vivid. And maybe the highlight of the night, a thrilling 'Desert Rose' had everyone twirling about with the breezy string sweeps. All of it perfect stuff for an orchestra.
© The Times Herald-Record by Timothy Malcolm