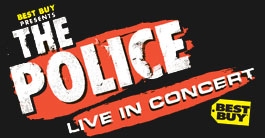 Ticket sales for The Police performance at Wrigley Field were brisk this morning with a complete sell out in just under one hour. As a result, tour promoters Live Nation announced today that a second and final concert is confirmed for Friday, July 6th.

Tickets for July 6th appearance of The Police at Wrigley Field will go on sale on Monday, April 2nd @ 10am. Tickets 4.00, .00 and .00 will be available at www.tickets.com or by calling 1-800-THE-CUBS. Tickets will not be sold at the Wrigley Field Box Office. There is a six ticket limit per customer.

From their early beginnings, The Police were hailed as a maverick live band - a group that galvanized an already impressive studio sound into something otherworldly when performing. Combining controlled energy and evocative melodies, Sting, Stewart Copeland and Andy Summers played with the improvisational instincts of a jazz trio and the raw energy of a punk-rock band - a blend that made them one of the definitive rock groups of the'70s and '80s.

Special guest Fiction Plane will join The Police for the North American portion of the tour including the Wrigley Field event. Known for their high-energy live shows, this dynamic rock trio will be releasing their 2nd album in May. Fiction Plane are: Joe Sumner (Bass); Seton Daunt (Guitar); Pete Wilhoit (Drums).

The North American tour is presented by Best Buy, the leading consumer electronics retailer with nearly 1,000 retail locations in the United States and Canada. Complete details of the Reward Zone program presale can be found at www.bestbuy.com/thepolice.

A portion of the proceeds from this tour will be donated to WaterAid, an international NGO founded in 1981 and dedicated to reducing poverty by improving access to safe water, sanitation, and hygiene education. For information, visit: www.wateraid.org.

The Police World Tour is produced by The Next Adventure, A Live Nation Company in association with RZO Entertainment, Inc.

The Police Tour Fan Club presale for this show will take place on Thursday, March 29 from 10am (local time). Head to ThePoliceTour.com Tickets at this time to purchase your tickets.

You must be a member to participate in any presales. If you are not a member yet you can find out more information Here.

NORTH AMERICAN TOUR ITINERARY 2007 (as of March 26)

28 May GM Place, Vancouver BC
30 May GM Place, Vancouver BC
02 Jun Commonwealth Stadium, Edmonton AL
06 Jun Key Arena, Seattle WA
07 Jun Key Arena, Seattle WA
09 Jun Pepsi Center, Denver CO
10 Jun Pepsi Center, Denver CO
13 Jun McAfee Coliseum, Oakland CA
15 Jun MGM Grand Garden, Las Vegas NV
16 Jun Bonnaroo Festival, Manchester, TN
18 Jun US Airways Arena, Phoenix AZ
20 Jun Staples Center, Los Angeles CA
21 Jun Honda Center, Anaheim CA
23 Jun Dodger Stadium, Los Angeles CA
26 Jun American Airlines Center, Dallas TX
27 Jun American Airlines Center, Dallas TX
29 Jun Toyota Center, Houston TX
30 Jun New Orleans Arena, New Orleans LA
02 Jul Scottrade Center, St. Louis MO
03 Jul Xcel Center, St. Paul MN
05 Jul Wrigley Field, Chicago IL
06 Jul Wrigley Field, Chicago IL
10 Jul Dolphin Stadium, Miami FL
11 Jul St Petersburg Times Forum, Tampa FL
14 Jul Churchill Downs, Louisville KY
16 Jul Quicken Loans Arena, Cleveland OH
17 Jul Palace of Auburn Hills, Detroit MI
19 Jul Citizen's Bank Park, Philadelphia PA
20 Jul Hersheypark Stadium, Hershey PA
22 Jul Air Canada Centre, Toronto, ON
23 Jul Air Canada Centre, Toronto, ON
25 Jul Bell Centre, Montreal, PQ
26 Jul Bell Centre, Montreal, PQ
28 Jul Fenway Park, Boston, MA
29 Jul Fenway Park, Boston MA
31 Jul Rentschler Field, Hartford CT
01 Aug Madison Square Garden, New York NY
03 Aug Madison Square Garden, New York NY
05 Aug Giants Stadium, East Rutherford NJ
08 Nov Air Canada Centre, Toronto ON

Important Fan Club Sale Instructions

Our fan club sale system will generate your fan club sale passcode for you when the shows go live. You will not get a passcode before the fan club sales start. We strongly advise that you carefully review the instructions on how to participate in the fan club presales before they start. View these instructions at Ticket Presale Guidance.

Ticket holds for the tour are strong in terms of both quantity and quality and we hope that as many fan club members as possible get seats to the show they would like to attend. However, shows in large metropolitan areas tend to be very popular and are expected to sell out very quickly. Also, The Police Tour Fan Club is not just a ticket club. Joining the Fan Club is not a promise that you will be able to get tickets to a show.

Local Time:

What does 'Local Time' mean?

For example: if we say "presales start at 1pm Local Time" and there is a presale in NY, it will happen at 1pm EST and if there is a presale in LA, that presale will start 1pm PST. If you are interested in a presale that is outside your timezone, please make sure to adjust for any time zone difference.