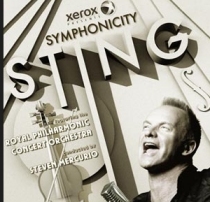 Sting @ SPAC, 7/31/10...
Ever since his debut solo album 'Dream of the Blue Turtles' in 1985, Sting has pushed himself to be taken as more than just a rocker. Sure the title was pretentious, but the album showed the jazz standard side of him with a new kind of singing that was more akin to pop standards, but always with his distinctive voice.
With the Royal Philharmonic Concert Orchestra Saturday night Saratoga Performing Arts Center, he explored the richness of his catalog with an entertaining and satisfying collection of 26 songs that had been rearranged to make great use of the orchestra, and to show off Sting's voice. At 58, he may not be able to sustain the high notes, but he hit all the right ones.
The packed amphitheater crowd ate it up when he said he was playing with "the biggest band I ever had in my life." That would be the 45-member orchestra, under the baton of the kinetic Steven Mercurio. Lest anyone think he had crossed over completely into Nelson Riddle pops territory, he had a backup vocalist, guitarist, bassist and two percussionists standing behind him - but in front of the orchestra.
With rocking hits like the crowd-pleasing 'Every Little She Does is Magic' early in the show, it seemed as if the band would upstage the orchestra.
But the concert deepened as it progressed. He gave a brief overview of the Cold War realities that helped inspire 'Russians', a song from 'Dream of the Blue Turtles'. With a chorus already inspired by Prokofiev's 'Lieutenant Kije', the song allowed the orchestra to show off its dexterity with a brash, discordant and tense introduction that sounded like a conflict with a heavy-footed Soviet marching band. It was a thrilling musical moment, and the orchestra referenced it with various instruments throughout the song.
The orchestra injected a new energy into the 1999 song 'Tomorrow We'll See', an already moody piece about understanding a transsexual's point of view, allowing the lush orchestration to allude to a 1960s Burt Bacharach beat.
'Moon Over Bourbon Street' - Sting's homage to the New Orleans in Anne Rice's 'Interview with the Vampire' - displayed the orchestra's ability to show a range of moods and emotions from ominous to playful. 'End of the Game', which opens as with gentle, pastoral strings, featured the interplay of strings and horns the built toward a rocking beat that brought the audience to its feet.
The true surprise was the sad and beautiful 'All Would Envy', a song written in 1999 that didn't make it onto the album 'Brand New Day', but with its steady beat recalling a samba and Sting's quiet singing, it allowed a strong trumpet solo to lead the audience's attention and let the orchestra's rich, resonant sound come forward.
Sting wisely placed hits at the beginning and ends of sets. The orchestra went punk, with violinsts' bows jumping to the staccato beat of 1977's 'Next to You'. And when Sting went from 'King of Pain' to 'Every Breath You Take' (both from 1983, and when is the last time you listened to those two former radio staples?), the audience let out a collective gasp of surprise, as if just remembering how enjoyable those songs are.
The risk with the Police hits, of course, is that it shows how much Sting's voice has changed, though still strong when he sang "That's my soul up there," it seemed a register or two lower than in the 1983 recording - 27 years ago.
Clearly, Sting has been entertaining for a long time, and his concert showed he has plenty more tricks up his sleeve as he reinvents himself - and his music. In case you forget that the night was all about Sting, his final encore was just him singing 'I Was Brought to My Senses', while the orchestra sat waiting for him to finish.
His ego can be forgiving, though: His concert makes a convincing argument that his songs, and not just the hits, are pop standards that stand the test of time.
Sting - with the Royal Philharmonic Concert Orchestra
When: 8 pm Saturday
Where: SPAC, Saratoga Springs
Length: 2 hours, 50 minutes with a 20-minute intermission and a four-song encore
Crowd: Older than the usual rock show, younger than the usual classical music concert, but the mix didn't always work. Late arrivals (typical of rock shows) interrupted those who had taken their seats on time, when they should have been forced to wait to take their seats (which is more typical of classical performances).
Highlights: The jazzy upbeat 'Englishman in New York', the orchestra on 'Russians'.
© The Times Union by Michael Janairo