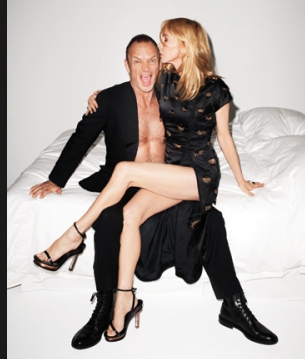 After almost 30 years together, one of rock's most famous couple isn't afraid to spice things up.
Sting and Trudie Styler are nursing a double gin and a vodka tonic, respectively, after spending the day cavorting sexily for photographer Terry Richardson. But they really should be having a cigarette. In a cheeky nod to the couple's boudoir infamy, Sting says, "That was like tantric filmmaking."
If anyone can handle a bit of raciness, Sting and Styler can. Married for 18 years, together almost 30, and parents to a Brady Bunch - like six children, they still plan exotic hotel rendezvous and toss around saucy innuendo as casually as if they were talking about the weather.
That's the secret to romance, they say: a sense of occasion. "We treat every day as it comes," Sting explains. "Relationships aren't easy, and I don't think they're particularly natural, but we're lucky because we actually like each other. We love each other - that's a given - but Trudie lights my world up when she comes into a room. I don't take her for granted." How so? "Well," he pauses, while Styler pops on his Lanvin fedora, "I could lose her. He'd have to be very rich and very handsome, but..."
Read the full interview and see the photos by Terry Richardson at
Harper's Bazaar
.