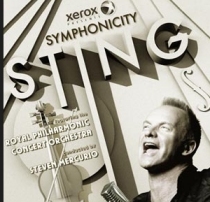 Sting knows his latest crossover project will annoy his detractors. And, he tells The Daily Telegraph's Neil McCormick, he couldn't care less...
'I don't need everyone to love me," says Sting. "I really don't." The 58-year-old superstar is preparing to go on stage with the Royal Philharmonic Orchestra, augmented by his own four-piece band, to perform orchestral rearrangements of songs from his back catalogue.
This, as Sting knows, is exactly the kind of thing that makes his detractors groan. "For some people, I am a pretentious prat," he continues in his level, thoughtful way. Then he shrugs. "But they're not people who actually know me. I don't feel like defending myself that much, so I'd rather say, 'That's fine - believe what you want to believe.' I live my life."
The crowd taking their seats at an open-air auditorium in Atlanta, Georgia, seem in a giddy mood, chattering noisily as 45 black-clad classical musicians take their positions on stage, the warm air filling with the hum of tuning. Beer and hot dogs are being liberally consumed. "It's a bit of a picnic atmosphere," says Sting, from the wings. "It's not easy for the audience on this tour. They can be a bit wary, they're not sure if they should stand up or sit down, be rowdy or be attentive. But, by the end, they'll figure it out."
It is easy to appreciate his fans' confusion. In thepast four years, Sting (aka Gordon Sumner) has toured small venues with an album of Elizabethan lute music, 'Songs From the Labyrinth' (2006) and a folk and choral set of old carols and hymns, 'If on a Winter's Night' (2009). In between he played to six million people in stadiums and arenas around the world with re-formed pop-rock trio the Police.
Tonight, we will be treated to a slow-paced version of the yearning Police classic 'Roxanne', replete with a mournful cello solo, and a take on the punky four-chord thrash 'Next To You', with sawing violins replacing electric guitars. "It's easy with a rock band: the audience are bombarded into submission," he says. "They can't hear themselves talk, so they don't talk. With this, you have to engage them on a different sonic level. You really have to work harder. But that's OK: I don't expect things to be given to me on a plate."
But there is a flash of the familiar self-confidence, a sense of professional assuredness that some mistake for arrogance: "I know that at some point in the evening I will have them." And so it proves. By the time darkness has fallen, and Sting is delivering a poised, perfect vocal to a lush, sinister Moon Over Bourbon Street, you could hear a pin drop. In a set balanced between radically rearranged hits and surprising reinventions of curious corners of his back catalogue, Sting and his orchestra seem to be enjoying themselves almost as much as the audience.
"There's a bit of cabaret, it's a little bit middle of the road, but I'm trying to create something new in this interface between pop and symphonic music. I think these songs have enough harmonic movement in them to warrant a symphony orchestra playing them. I want them to sound like a rhythmic unit as opposed to aural wallpaper for somebody's vanity. It's sonically rich: you can do almost anything with an orchestra. I don't know where it's going, but that's something I love. The journey itself is the reward."
He has recorded an album of highlights from the set, 'Symphonicities' (out in the UK next Tuesday ), which he says is the easiest he's ever made. "The album was an afterthought. We were rehearsing in Abbey Road and basically pushed the 'record' button. Instead of coming in with a few chords for a band and teaching everyone the song, and finding an arrangement by trial and error, you put a score down in front of an orchestra and they play it. It took about the same time to record as it takes to listen to. I think I'm going to make every album like that in the future."
It may not be what the mass audience wants to hear from him, but you can sense Sting's relief at being in this most musical of contexts in contrast to the ego-clashing, record-breaking superstar Police reunion. "I had an instinct that it was the right time to realise that asset, and I was right. But it wasn't easy. There was nothing new in it - no new songs, no new energy, no desire to take that as a platform and move somewhere else. It was purely an exercise in nostalgia. People reacted to the Police coming back as if Mum and Dad had got together, you could see that emotion in the audience. But who really wants to go and live with the wife you divorced? I won't do it again. But I don't need to. I've done it now."
Sting's global fame over three decades has made him part of the fabric of popular culture, yet his musical journey has been far more wayward than his household-name status implies. "Before The Police, I played in Dixieland jazz groups and cabaret, I played cruise ships and big bands, my route was very convoluted and almost ridiculously off the beaten track." Music, he insists, should be its own reward, "whether you are playing to your pussycat or ten people in a pub."
This is what he has always told his own kids, two of whom have musical careers, son Joe Sumner (33) with the band Fiction Plane, and now daughter Coco Sumner (19) as a hotly touted solo artist, I Blame Coco. "Of course, they say, 'that's easy for you to say.' But I'm still telling the truth: you play music because you want to play it, you have a choice. Its always been rewarding for me. I was a very solitary musician when I was younger. In fact, I wouldn't speak. I had a guitar and I would go in a corner and just play it myself."
It is for non-musical pursuits that he has been on the receiving end of most mockery, for his advocacy of Tantric sex, yoga and environmental and other charitable issues. Last year, he was on the receiving end of a mauling from Jeremy Paxman on Newsnight, when Sting was invited on to discuss the impact of a dam on an indigenous Brazilian tribe and then accused of hypocrisy for his own carbon footprint.
" That wasn't an interview, it was an ambush," says Sting, laughing mirthlessly. "I have a massive carbon footprint, but all of us in the west do, including Jeremy. I try to ameliorate that by planting a lot of trees and making our tours as energy efficient as they can be, but I recognise my part in the problem and I try to participate in finding solutions. My commitments have been pretty consistent. I've been campaigning against that dam for 12 years. The accusation that I was only doing it to sell my record, that is so naïve. You sell less records when you go on about a cause. People don't want to hear it. I'm doing it because I have a stake in it, and because it works. Its certainly enriched my life. But has it helped my career? I sincerely doubt it."
Sting talks thoughtfully and in some depth about the issues that matter to him, whether they be political, musical or personal. He is affable, polite and respectful towards the people around him. He speaks with real pride and affection about his family, declaring "having produced these fantastic kids, I think, well, this is it, my work is done. All the rest is just passing time." He practises yoga and plays music every day, without fail. "I like discipline. I couldn't live my life any other way. I'm not sort of a Jack Daniels party animal."
So that's Sting. Handsome, healthy, rich, famous, talented, intelligent, socially committed, artistically adventurous and doing a job he clearly loves. No wonder so many people seem to hate him.
"I have a very good life," he shrugs. "I play music, I make money and I have an active life as some kind of philanthropist, and its all fine. You know, I get enough love and adulation. If everyone loved you, well, that would be boring, wouldn't it?"
© The Daily Telegraph by Neil McCormick