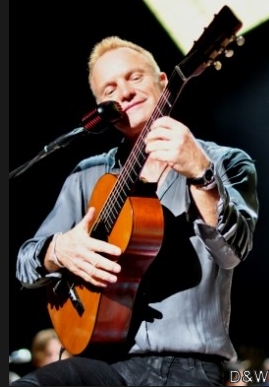 Unless you happen to be Beethoven, writing music for an orchestra is fraught with danger. On many levels, Sting isn't Beethoven, nor, presumably, was the transsexual prostitute's tale 'Tomorrow We'll See' (let alone the bog-standard prostitute's tale 'Roxanne'), written with an orchestra in mind. No matter: after all there is no obvious reason why a rich back catalogue and an open-minded orchestra (the Royal Philharmonic) cannot make some kind of accommodation.
That he has not released a straightforward pop album since 2003 suggests his muse has taken flight, but Sting and self-belief remain on the most intimate of terms. He may have turned 59 on Saturday, but on Friday he showed he can still carry off spray-on trousers and still perform for an almost Tantric-length three hours.
Often, the pop-meets-orchestra marriage breaks down at the point where bolted-on classical players add a suggestion of class, but nothing else. Here, Sting won by surrendering his songs to the orchestra, who in turn surrendered themselves to exuberant presentation. 'Desert Rose', where Sting even allowed himself a wee jiggle, was a riot of sound; 'Every Breath You Take' swung like it's never swung before; 'Roxanne' sounded less shrill than usual and former lesser lights, especially a heroic 'A Thousand Years', were picked apart, put back together and emerged as genuine contenders.
Sting couldn't have been more Sting-like: shocking us by swearing like a naughty schoolboy; curling up on stage like an overly contented cat (or George Galloway) during 'An Englishman In New York's' clarinet solo and explaining how he helped halt the Cold War before a magnificent, timpani-laden rendition of 'Russians'.
Portentous, pretentious and pompous: what's not to like?
© London Evening Standard by John Aizlewood